Conformational Diseases and Therapeutics Research Laboratory
Valerie M. Berthelier, PhD
Assistant Professor
Conformational Diseases and Therapeutics Research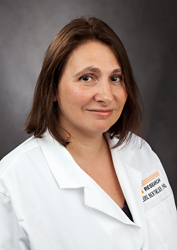 Education
Graduate School
University of Paris 7, France
MS Biochemistry (1992),
Diploma of Graduate Study in Molecular Biophysics (1993)
PhD in Molecular Biophysics (1998)
Post-Graduate
Post-Doctoral Research Associate, UT Graduate School of medicine, (1998-2004)
Other Experiences and Professional Memberships
2003-present Member, Society of Neurosciences
2004-present Member, The Protein Society
2004-present Member, American Chemical Society
2006-present UT Adjunct Faculty, UT- ORNL Genome Science and Technology Graduate Program
Honors and Awards
Cold Spring Harbor fellowship, training on molecular approaches to ion channel structure, expression and function, USA (1994)
NATO fellowship, Symposium on signal transduction, Spezai, Greece (1996)
Division of Research and Technical Studies fellowship, Paris, France (1995-1998)
Ph.D with distinctions (1998)
Young Investigator Travel Award, CAG triplet repeats Gordon Conference, Mount Holyoke, MA (2005)
On-going Research Support
NIH/NINDS - 1R21 NS056325-01A1 (12/15/2007 – 11/30/2009)
Small molecules as modulators of polyglutamine aggregation
The major goal of this project is to identify small chemical molecules that can affect the conformation of polyglutamine aggregates and lead to the discovery of potential treatment.
LDRD – ORNL Subcontract 3310-2943 (11/01/2008 – 08/31/2010)
Structure and Biophysics of Intrinsically Disordered Proteins
Scientific research and development involving the production, purification, and biophysical characterization of intrinsically disordered proteins for neutron scattering studies at ORNL
Current Publications
Berthelier V, Harris J, Estenson K, Baudry J.
Discovery of an inhibitor of Z-Alpha1 antitrypsin polymerization. Plos One. 2015 May 11;10(5):e0126256.
Perevozchikova T, Stanley CB, McWilliams-Koeppen HP, Rowe EL, Berthelier V.
Investigating the structural impact of the glutamine repeat in huntingtin assembly. Biophysical Journal. 2014 Jul 15;107(2):411-421.
Top