The Department of Radiology
Garnetta I. Morin-Ducote, MD
Associate Professor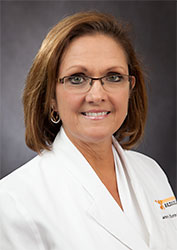 Education
Medical School
Louisiana State University School of Medicine, New Orleans, LA, 1991
Internship
Transitional Year, Louisiana State University Medical Center, New Orleans, LA, 1992
Residency
Diagnostic Radiology, University of Tennessee Graduate School of Medicine, 1996
Certification
American Board of Radiology
Professional Affiliations
Radiological Society of North America
American College of Radiology
Society of Breast Imaging

Current Publications
Alamudun FT, Yoon H-J, Hudson K, Morin-Ducote G, Tourassi G.
Fractal analysis of radiologists' visual scanning pattern in screening mammography. Progress in Biomedical Optics and Imaging. 2015;9416:94160T.
Tourassi G, Yoon H-J, Xu S, Morin-Ducote G, Hudson K.
Comparative analysis of data collection methods for individualized modeling of radiologists' visual similarity judgments in mammograms. Academic Radiology. 2013 Nov;20(11):1371-1380.
Voisin S, Pinto F, Morin-Ducote G, Hudson KB, Tourassi GD.
Predicting diagnostic error in radiology via eye-tracking and image analytics: Preliminary investigation in mammography. Medical Physics . 2013 Oct;40(10):101906.
Top
---
The University of Tennessee Graduate School of Medicine
1924 Alcoa Highway
Knoxville, Tennessee 37920 | 865-305-9290
Copyright © 2016