The Department of Radiology
Andrew S. Ferrell, MD
Assistant Professor
Residency Program Director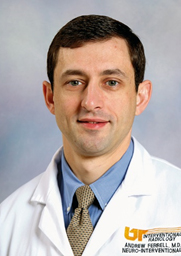 Education
Medical School
Medical University of South Carolina, Charleston, South Carolina, May 2004
Internship
Medical University of South Carolina, Charleston, South Carolina, 2005
Residency
University of Alabama at Birmingham, Birminhgam, Alabama, 2009
Fellowship
Interventional Neuroradiology, Duke University, Durham, North Carolina, 2012
Certification
The American Board of Radiology
Honors and Awards
University of Alabama at Birmingham
Neurointerventional Radiology Outstanding Resident, 2007
Gastrointestinal Radiology Outstanding Resident, 2006
Medical University of South Carolina
Honors Surgery, Internal Medicine, Family Medicine, Rural Medicine and Radiology
All American Scholar nominee, 2002
Junior Alpha Omega Alpha Nominee, 2002
MUSC Summer Research Fellowship, 2001
Harper Scholarship, 2000-2001
MUSC Summer Undergraduate Research Program, 1999
Professional Affiliations
American College of Radiology
American Medical Association
Radiological Society of North America
Alabama Academy of Radiology


Current Publications
Manhas A, Nimjee SM, Agrawal A, Zhang J, Diaz O, Zomorodi AR, Smith TP, Powers CJ, Sauvageau E, Klucznik RP, Ferrell A, Golshani K, Stieg PE, Britz GW.
Comprehensive overview of contemporary management strategies for cerebral aneurysms. World Neurosurgery. 2015 Jun 10. [Epub ahead of print]
Bourgeois AC, Kolze CT, Guimaraes MS, Pasciak AS, Ferrell AS, Bradley Y, Kvamme P.
Safety and efficacy of combined micropuncture and shallow angle femoral artery access for neurovascular angiography. The Journal of Vascular Access. 2015 May 23. [Epub ahead of print]
Current Presentations
Oler PR, Brown SJ, Campbell PD, Ferrell AS, Fox DR, Osborne DR. Reproducible MRI and radiographic criteria for grading cervical facet and disc degeneration. Presented at International Skeletal Society 43rd Annual Meeting; 2016 Sep 6-9; Paris, France.
Stanborough RO, Pearson RH, Ferrell AS. Interactive primer on the role of MRI in cervical spine trauma. Presented at American Society of Spine Radiology Annual Symposium; 2016 Feb 18-21; Bonita Springs, FL.
Bourgeois AC, Kolze C, Bernard D, Kvamme P, Findeiss L, Ferrell A. Safety and efficacy of combined micropuncture and AXERA femoral access. Presented at Global Embolization Symposium and Technologies; 2014 May 1-4; San Francisco, CA.
Top