News and Events
2022 GSM Faculty Honored for Excellence
Each year, faculty are recognized for their extraordinary efforts in education and discovery. The 19th annual University of Tennessee Graduate School of Medicine Faculty Awards were presented by Dr. Paul J. Hauptman, Dean.
GSM Spirit Award
Deidra J. Mountain, PhD
Associate Professor
Department of Surgery
This annual award recognizes a faculty member who exemplifies the spirit of the GSM by upholding and promoting the GSM's mission to colleagues, residents, students, staff, and the community. Dr. Mountain's record of service and commitment to the GSM embodies the intent of this important award.
Dr. Deidra Mountain is Associate Professor in the Department of Surgery and Scientific Director of the Vascular Research Laboratory. She received her PhD in Biomedical Sciences from the Quillen College of Medicine at ETSU in 2006, completed her post-doctoral fellowship in Vascular Biology at the GSM, and joined our faculty in 2008. Her research interests include the development of translational nano-therapeutics to improve vascular surgical outcomes.
Dr. Mountain plays an active role in the research education of medical students, residents, and fellows. She has mentored more than 25 post-graduate medical professionals and more than 30 medical and post-baccalaureate students in her career. She serves as Director of the Undergraduate Research Experience at UTGSM; in this capacity, she oversees a variety of research and mentoring programs including the Collmann Fellowship for UTHSC-COM medical students and the Advancing Access to Careers in Medicine Scholars Program (AACMSP) that affords undergraduate and post-baccalaureate students from diverse backgrounds opportunities to explore career paths in biomedical research and academic medicine.
Dean Hauptman said, "We sincerely appreciate Dr. Mountain's many contributions to the GSM and ongoing commitment to furthering research opportunities for trainees across the educational spectrum."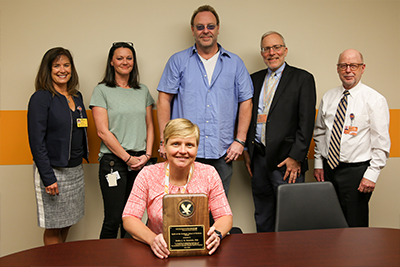 From left to right: (Back row) Associate Dean Paganelli, Jennifer Ferris MSHS, CCRC, Dr. Wall, Dean Hauptman, Assistant Dean Metheny, (Front Row) Dr. Mountain
Excellence in Teaching Award
Ashley Hambright, MD
Assistant Professor
Department of Anesthesiology

The Excellence in Teaching Award honor faculty who exhibit a strong commitment to teaching while serving as a role model to students, residents, and colleagues. This year's recipient, Ashley Hambright, MD joined the Department of Anesthesiology in August 2014 after completing her Anesthesiology residency training at the GSM in 2013 and her fellowship training in Obstetric Anesthesiology at Wake Forest in 2014. Dr. Hambright has distinguished herself in resident education by the quantity and quality of her teaching efforts. In addition to multiple formal didactic sessions in her subspecialty area, Dr. Hambright delivers Socratic teaching sessions in Obstetric Anesthesia at least weekly. Dr. Hambright received the Department of Anesthesiology Faculty Teaching Award in both 2020 and 2021 and serves as the Department's Director of Simulation, designing and leading multiple inter- and intra-departmental simulation sessions.

"Dr. Hambright is a key member of our Residency Recruitment Committee and Clinical Competence Committee," Dr. Robert Craft wrote in his nomination letter. "As her career develops further, I expect her to grow in her contributions to our residents, department, specialty and the Graduate School of Medicine."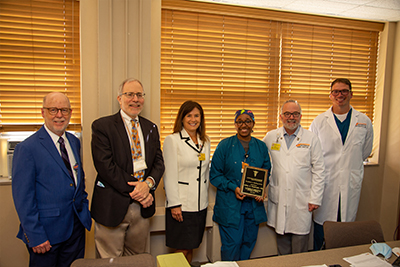 From left to right: Assistant Dean Metheny, Dean Hauptman, Associate Dean Paganelli, Dr. Hambright, Dr. Craft, and Dr. McConville
Excellence in Teaching (Volunteer)
Konstantino Triantafillou, MD
Clinical Instructor
Department of Surgery
Recipients of the Excellence in Teaching for Volunteer Faculty Award are recognized for excellence in teaching by giving their own time and effort to enhance the learning experience of residents, fellows, and students without compensation. Konstantino Triantafillou, MD, this year's recipient, is an orthopedic surgeon at UT Medical Center who completed his residency in Orthopaedic Surgery at Georgetown University in 2014 and his fellowship training in Orthopaedic Traumatology at Campbell Clinic Orthopaedics in 2015. Dr. Triantafillou attends Surgery Grand Rounds on a regular basis and is engaged in the education of medical students and residents in all aspects of orthopedic trauma evaluation and management.
Dr. Michael Freeman, Surgery Chair, wrote in his nomination letter, "I have received excellent comments from residents and medical students on his participation in their educational experience. I can think of no one more deserving of the Excellence in Teaching for Volunteer Faculty Award than Dr. Triantafillou."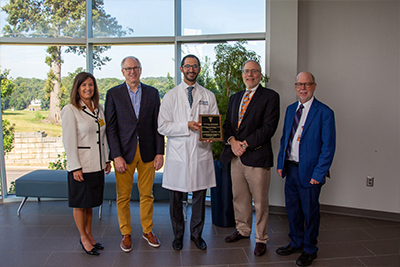 From left to right: Associate Dean Paganelli, Dr. Freeman, Dr. Triantafillou, Dean Hauptman, and Assistant Dean Metheny

Excellence in Clinical Research

Raj Baljepally, MD
Clinical Associate Professor
Department of Medicine

The Excellence and Leadership in Clinical Research Award is given to a faculty member who demonstrates commitment to the clinical research mission at the GSM. Raj Baljepally, MD, this year's recipient, is a Clinical Associate Professor and has worked as a busy interventional cardiologist at the UT Medical Center for twenty years. Currently, he serves as the Associate Director of Cardiology Research and as the Associate Program Director of the Interventional Cardiology Fellowship Program. Dr. Baljepally has pursued several research studies in the cardiac catheterization laboratory and in so doing, has mentored multiple fellows with whom he has published a number of impactful papers.

Dr. Rajiv Dhand stated in his nomination letter, "Dr. Baljepally is an experienced and skilled teacher. He teaches general and interventional cardiology to internal medicine residents and fellows, and he actively participates in weekly cardiac catheterization conferences and monthly research conferences. He is a natural choice for this year's Excellence and Leadership in Clinical Research Award from the Graduate School of Medicine."

.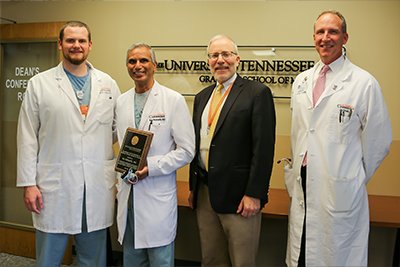 From left to right: Dr. Livesay, Dr. Baljepally, Dean Hauptman, and Dr. Crook
Posted: September 12, 2022