News and Events
UTGSM Staff Recognized for Excellence
The UT Graduate School of Medicine recently honored employees with the 13th annual Employee Excellence Awards program. Excellence Awards are given to staff members who go beyond the scope of their jobs by providing outstanding job performance, courtesy and customer service, community service and leadership. View photos from the Awards presentations and luncheon on Flickr.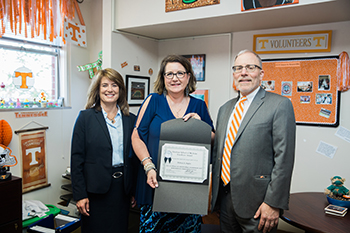 Excellence in Community Service: Missy Maples, Director, Student Affairs
Missy Maples has organized several community service events in which UTGSM staff participated. She organized a community giving program to deliver "blessing boxes" to people in need in East Knoxville. She assisted in coordinating a canned food drive to benefit Second Harvest Food Bank, shopped for and delivered goods to Gatlinburg fire victims, hand-knitted hats for preemie babies, also coordinated a tree decorating contest at Christmastime and worked with members of the Cancer Institute to deliver the trees to patients with spending the holidays in the hospital.
In nominating her, Jennifer Russomanno, Continuing Education and Professional Development Coordinator, said, "Missy goes out of her way to make community giving experiences special for program recipients. She often uses her own money and resources to contribute to these programs. She has one of the biggest hearts of anyone I have ever met."
Pictured from left: Assistant Dean Amy Paganelli, Missy Maples, Dean Paul Hauptman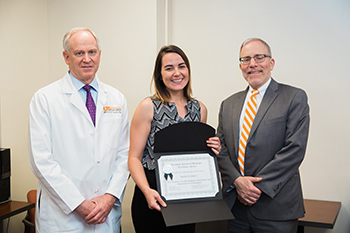 Excellence in Job Performance: Rachel Roberts, Coordinator, Surgery
Rachel Roberts helps coordinate Medical Explorations, which requires complex scheduling of students and attending physician across all UTGSM departments. She coordinates medical student curricula for the Department of Surgery, clinical rotations, lecture series and evaluations. She directs Journal Club by securing hosts, managing content and coordinating resources. She also manages the Department's Grand Rounds.
In nominating her, Brian Daley, MD, Residency Program Director, said, "Rachel goes out of her way to foster the medical students, shepherd the Medical Explorations, and corral the Surgery attendings to keep programs running smoothly in the Department of Surgery. She functions autonomously to keep all on track and juggles several other educational tasks at a moment's notice."
Pictured from left: Dr. Michael Freeman, Rachel Roberts, Dean Paul Hauptman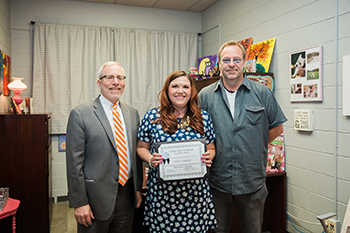 Excellence in Leadership: Kristen Vandergriff, Research Coordinator
Kristen Vandergriff assists other employees in professional development by guiding grant applications, contracts, and budget submissions. She ensures that researchers have all the necessary tools to complete their submissions. She offers guidance to her research coordinator peers and goes above and beyond to assist others in their work.
Jennifer Ferris, Research Coordinator, said in nominating her, "Kristen demonstrates excellent organizational qualities. She successfully coordinates research development for the Graduate School of Medicine, and is always able to help answer research-related questions."
Pictured from left: Dean Paul Hauptman, Kristen Vandergriff, Dr. Jonathan Wall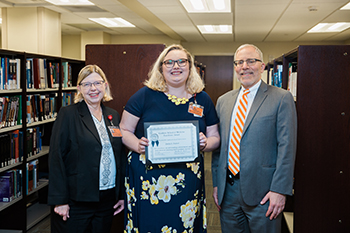 Excellence in Outstanding Courtesy and Customer Service: Emily Weaver, Administrative Specialist, Preston Medical Library
Emily Weaver assists Preston Medical Library staff in meeting the needs of library visitors. She anticipates potential problems with account management, ordering of supplies and other general functions of the library. . She is known for her organizational skills and ability to guide people through literature search requests, scheduling and more.
In nominating her, Kristen Vandergriff, Research Coordinator said, "Emily always has a smile on her face and is willing to do whatever she can to help faculty, staff and patients who visit the library."
Pictured from left: Martha Earl, Emily Weaver, Dean Paul Hauptman
Posted June 20, 2019