News and Events
New NIH Grant Supports Bone Therapy Research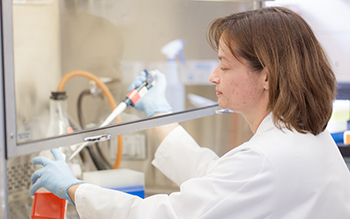 An estimated 126.6 million Americans are affected by musculoskeletal conditions such as bone diseases and bone injuries ranging from simple fractures to face/jaw defects, catastrophic bone loss, and bone cancers. These bone injuries and diseases result in significant pain, distress, and loss of quality of life, as well as considerable financial hardships for patients and the health care system. Therapies are limited, but UT Graduate School of Medicine researchers are collaborating on a study to develop a treatment strategy supported by a new grant from the National Institutes of Health.
A multidisciplinary team including Stacy Stephenson, MD, Assistant Professor; Tom Masi, PhD, UT Graduate School of Medicine Plastic and Reconstructive Surgery Laboratory; Madhu Dhar, PhD, UT College of Veterinary Medicine; and Shawn Bourdo, PhD, University of Arkansas, Little Rock, Center for Integrative Nanotechnology Sciences, is investigating the mechanism triggered in a process that changes stem cells (cells that have remarkable potential to develop into many different cell types) into bone cells.
The team previously discovered that when stem cells are placed on a low oxygen form of a carbon-based polymer (graphene) scaffold, the stem cells transform into bone cells and start to make the components of bone matrix without additional stimuli.
Through this new study, once the investigators determine the mechanism that changes the stem cells to bone cells, the graphene scaffold can be modified to make the process of bone formation occur faster and more efficiently. Graphene can be molded into any shape or form, so the team will also focus on developing a 3D scaffold containing stem cells for implantation in vivo. This will allow the investigators to evaluate bone healing capacity of the scaffold/stem cells as well as biotoxicity and biodegradation.
The long-term goal of this research is to develop an optimal scaffold design that, when combined with stem cells, results in bone healing of a critical sized defect and a return to normal form and function in veterinary or human patients.
The grant entitled "Bone regeneration: mesenchymal stem cells and graphenebiomimetic nanomaterials" has been funded for a three-year period by NIH.
Pictured: Dr. Stacy Stephenson


Posted December 21, 2018
Top
---