News and Events
Dr. Wes White Implements Coaching Style Teaching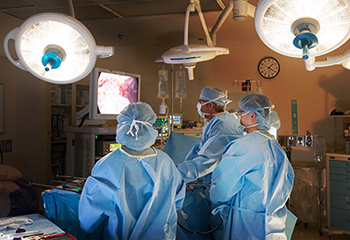 Wes White, MD, Urology Residency Program Director, often uses video of surgeries as a teaching tool at national conferences. Now, he is also using video of surgeries to enhance teaching residents, similar to football programs watching video of game footage.
As early as 2008, Dr. White and his colleagues at other medical institutions began recording full-length surgeries and editing them into educational videos for presentation at national and international meetings. While at one of those conferences, they realized that videos of surgery, like game film in sports, could be used as a coaching tool for residents. Reviewing videos of faculty surgeries as well as their own performance allows residents to reflect what went well and can help them improve their skills and critical thinking for future cases.
"Watching film is almost like doing mental repetitions," said Dr. White. "You obviously can't do physical reps in surgery real time. But if a resident can watch a film repeatedly, they can prepare themselves for almost anything."
To use the film with surgeons the way coaches do with athletes, Dr. White decided he wanted to learn more about the process. He turned to former University of Tennessee Volunteers coach, Phil Fulmer, for help.
"I learned in my interview with Coach Fulmer that you're never staying the same. You're either getting better or worse," said Dr. White. "I've found that by doing this, I'm getting better, too," he said. "It sounds strange to say you're still learning and growing after you've done over a thousand surgeries, but you are."
Posted September 11, 2018
Top
---