News and Events
Knoxville Forensics Conference for Dental Professionals Offers Hands-On Forensics Training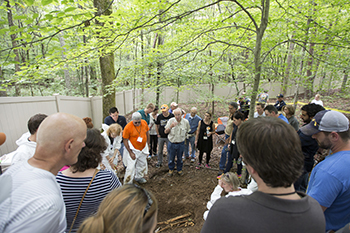 A unique conference in Knoxville, Tennessee, gives dental professionals exposure to current forensic dentistry methods and provides hands-on training for individual and mass-disaster casualty identification in death investigations. The week-long conference, Forensic Odontology National Conference: All That Remains, July 30-August 4, offers training in real-life settings and meets some of the prerequisites for certification as a forensic odontologist. Dentists with specialized training in forensics often use their skills to aid first responders following mass disasters such as 9/11, Hurricane Katrina, and more recently, the Smoky Mountain fires.
All That Remains is led by forefront forensics faculty including officers in the American Board of Forensic Odontology national organization as well as Dr. Bill Bass, a renowned forensic anthropologist who founded the original "Body Farm."
This 42.5-hour dental credit hour course is a stepping stone to challenging the American Board Forensic Odontology credentialing examination at the American Academy of Forensic Sciences meeting. During the course, attendees will visit a variety of settings including a courtroom, forensic anthropology laboratory, hospital laboratory, and regional forensic center office. This course also includes the opportunity to perform an oral autopsy, including a jaw resection; witness a forensic autopsy; visit and archaeologically-excavate a clandestine grave; and learn to use entomological evidence for time-since-death estimation.
These 42.5 hours are also accepted by the Tennessee Board of Dentistry for re-licensure credit.  Participants licensed outside of Tennessee should check with their licensing board.
All That Remains is presented by the University of Tennessee Graduate School of Medicine Department of General Dentistry Division of Forensic Odontology and Human Identification. For a full course overview and to register, visit: http://gsm.utmck.edu/cme/AllThatRemains2017.
Posted May 23, 2017
Top
---
The University of Tennessee Graduate School of Medicine
1924 Alcoa Highway
Knoxville, Tennessee 37920 | 865-305-9290
Copyright © 2023