News and Events
Employees Awarded for Excellence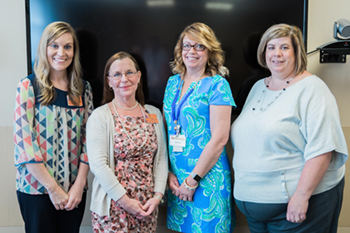 The UT Graduate School of Medicine recently honored employees with the 10th annual Employee Excellence Awards program. Excellence Awards are given to staff members who go beyond the scope of their jobs by providing outstanding job performance, courtesy and customer service, community service and leadership. View photos from the Awards presentations and luncheon on Flickr.
Excellence in Leadership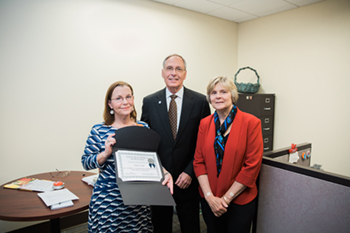 Donna Doyle
Poet-in-Residence/Information and Communication Specialist
Preston Medical Library
Donna Doyle has initiated several programs for Preston Medical Library that support narrative medicine and healing through arts and humanities. Doyle leads Literary Rounds: Where Medicine Mingles with the Muse, a monthly program that hosts writers, poets, songwriters, journalists and speakers to talk about their literary work related to medicine. Since 2009, Doyle has published six poems in the Journal of the American Medical Association. Her work has also been anthologized in several non-medical works. In her role as Poet-in-Residence, Doyle utilizes the library as a focal point for integrating poetry and other expressive arts into the medical center community. She has also been a leader in the Team Member Giving Campaign in which she shared that she gives because of a personal experience where a custodian at the medical center lifted her up when she was grieving for a hospitalized loved one.
In nominating her, Sandy Oelschlegel, Director of Preston Medical Library, said, "Compassion, empathy, intuition, relationship building are all words that describe Donna. ... Donna is a quiet leader that does not seek recognition, and I would love to see her get a leadership excellence award."
Excellence in Community Service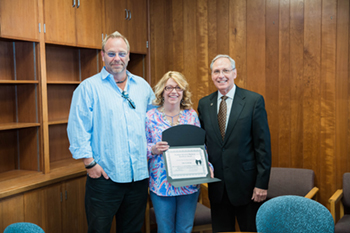 Tina Richey
Research Associate
Amyloidosis and Cancer Theranostics Program
Tina Richey oversees preclinical models and compliance in support of amyloidosis and cancer therapy research. In addition to her work, she is known for her spirit of giving at the medical center as well as within the community. Richey supports Fantasy of Trees by decorating a room each year that has lead to more than $10,000 per year for the fundraiser. She knits blankets for the Alzheimer's TN Christmas project to provide gifts to Alzheimer's patients who do not have family during the holidays. She also knits hats for babies in the NICU and collects vases for Random Acts of Flowers. Richey is known to be an advocate of most philanthropic opportunities that arise in the medical center.
Of Richey's efforts, Kristen Vandergriff, Research Coordinator, said, "Tina goes above and beyond to support many philanthropies in our area. She has such a giving heart and is always thinking of ways to help people in need."
Excellence in Job Performance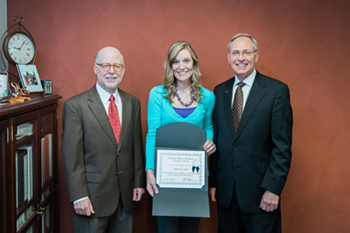 Ashley Smith
Coordinator
Graduate Medical and Dental Education
Ashley Smith supports the department and all of the residents and fellows for the UT Graduate School of Medicine. She ensures all paperwork is in place for residents from program application all the way through their graduation and is the go-to person for any issues that arise during their tenure. She manages financial reports for all departments and organized the process for producing the cost report, which is the basis for GSM revenue. She supports the institution and departments to ensure continued accreditation, and she organizes the orientation schedules, which usually involve two weeks worth of events.
William Metheny, PhD, Assistant Dean of GMDE, said, "Ashley has received the highest marks possible for performance for the past three years. She is consistent and customer-focused, she has in-depth knowledge of GME/GSM/UT policies and procedures, she is focused on performance and responsibilities, and she is consistently upbeat and supportive of team members."
Excellence in Courtesy and Customer Service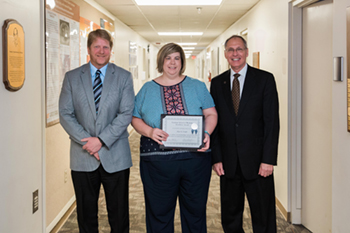 Hope Wright
Administrative Support Assistant
Surgery
Hope Wright directly supports the Chair of Surgery as well as the entire department. She ensures the staff, faculty, residents and students have all of their institutional needs met in a polite, friendly and supportive manner. She is said to work tirelessly for the educational programs including the Surgery Residency and Medical Explorations. As the first person many people meet, she is said to be always smiling and very helpful, even helping visitors within the hospital find where they need to go. Wright is known for being a problem solving - knowing what to do, where to look, who to ask, and how to get the job done correctly.
In one nomination of Wright among several, Jeffrey Hecht, MD, Associate Professor of Surgery, said, "Although she is very busy with Departmental isuses and the multiple projects of her energetic chairman, she always makes people feel as if she had nothing else to do but help them."
Posted September 7, 2016