News and Events
Student Research Program Inspires a Future Physician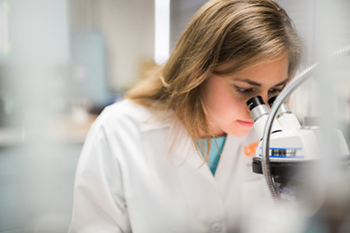 A summer research opportunity turned into a year-long research position and helped change the course of an aspiring doctor's career goals.
Adrianna Eder participated in the 2015 I. Reid Collmann, MD, Research Endowment program, learning about basic science research through Surgery's Division of Trauma and Critical Care under the direction of Michael Karlstad, PhD, whose research is supported by National Institutes of Health funding. The goal of the Collmann program is to equip medical students with a solid foundation in research so that they can see firsthand how basic science research affects patient care.
Eder said that as a Collmann fellow, she was able to see physiology in action, investigating the factors that affect pancreatic beta cell function (the pancreatic cells that control blood glucose), ultimately helping patients with diabetes.
"Clinical relevance gives this research special significance, and each experiment was designed with the diabetic patient in mind," Eder said. "My experience as a Collmann fellow solidified my interest in both clinical medicine and basic research."
After the summer program concluded, Eder continued working in Dr. Karlstad's lab as a research assistant and was awarded a competitive travel grant by the Shock Society to attend the 39th Annual Conference on Shock in June for her first-authored abstract, "Atmospheric Plasma: A Novel Approach to Wound Disinfection in a Murine Model," co-authored by Molly Wintenberg, Alan Wintenberg, Kim Wintenberg, Jason Collier, Eric Karlstad, Preston Mitchell, Patricia Coan and Michael Karlstad.
Now, she has started medical school at the UT Health Science Center in Memphis, with the hopes of pursuing a career in academic medicine.
She said, "Physician-scientists impact more than the quality of their own patients' lives; they change the way medicine is practiced by all physicians, and that is why I want to incorporate research into my clinical career."
Eder's career path wasn't always obvious to her. Before she discovered her passion for research, she planned to pursue a dual MD/MBA degree because she was interested in healthcare management. However, before she ever envisioned herself as a doctor, she wanted to heal people through nursing. She said, "I realized I wanted an education that would allow me to contribute to integrated medicine and improved patient care. My interests were fashioned into an Integrated Studies degree, with concentrations in biology, pre-medicine and accounting. For better or worse, medicine and business are becoming increasingly integrated, so my coursework was carefully designed to prepare me for a career in healthcare as the kind of physician-leader I wanted to be."
Then, Eder worked in a research lab at UT Chattanooga as part of her senior thesis project and received an Honorable Mention for the Barry Goldwater Scholarship, the premier undergraduate scholarship for students doing research in the sciences.
"I learned the importance of understanding why, in addition to knowing what," Eder said. "I found myself excited about the clinical relevance of the skills I acquired in the lab, and it was then that my interest shifted from the integration of medicine and business to the integration of medicine and basic research."
Eder said the Collmann experience solidified her new career path as a physician in academic medicine, and she learned that working in a lab allows her to apply business management skills, too. "Dr. Karlstad is an amazing mentor. I learned not only about research but also about the resources needed to keep a lab running. He's extremely business savvy."
The I. Reid Collmann, MD Medical Student Educational Endowment is an eight-week summer program for medical students or undergraduate students interested in medicine. Applications are accepted annually from December 1-February 28. Learn more.
Posted September 29, 2016