News and Events
The University of Tennessee Medical Center Celebrates Sixty Years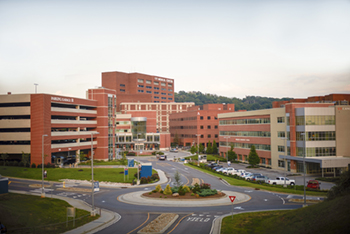 Today, The University of Tennessee Medical Center celebrates its 60th anniversary. On the morning of August 9, 1956, ambulances transferred patients from Knoxville General Hospital to the newly built state-of-the-art and air conditioned University of Tennessee Memorial Research Center and Hospital. The new hospital with tiled floors featured four-bed wards — a premium of privacy for the day - instead of the large open wards with wooden floors. The new atomic or isotopic hospital that would later be known as The University of Tennessee Medical Center was a dream come true for the region.
Sixty years later, The University of Tennessee Medical Center has evolved into a major healthcare facility with six Centers of Excellence and the bustling campus is home to more than 5,000 team members and physicians. It is the region's academic medical center, Magnet-recognized hospital and Level I Trauma Center and provides other unique services such as a dedicated Heart Hospital, kidney transplant center, Joint Commission/American Heart Association recognized Comprehensive Stroke Center, Level III private-room neonatal intensive care unit, and a state designated regional perinatal center.
"The University of Tennessee Medical Center has been a tremendous asset to this region for 60 years, touching many lives," said Joe Landsman, president and CEO. "We attribute our rich history and our well-respected standing within the community to our physicians, nurses and other team members who day after day dedicate themselves to excellence and compassion in patient care."
Physician residency programs have been part of the medical center since it opened in 1956, when it offered a fully accredited Internship Program. A shortage of physicians became a concern for Tennesseans in the 1960s, especially in rural communities. The state responded to that need by founding the Clinical Education Center in Knoxville, the predecessor to today's UT Graduate School of Medicine. Today, the UT Graduate School of Medicine, established in 1991, educates physicians and dentists in 22 residency and fellowship programs as well as medical students in their third and fourth years. It continues to add accredited programs to meet the healthcare needs of the region.
When the medical center opened in 1956, there was a strong focus on medical research, and the facility included 14 laboratories. With its proximity to Oak Ridge, for many years research focused on birth defects, blood disorders and cancer. Today, discovery is still at the foundation of the medical center's mission with the focus on making discoveries in the lab that have clinical application while also taking clinical observations and studying their validity in the lab. Through a unique partnership with Siemens, the medical center has access to the world's most advanced imaging technology for research and clinical applications. In this era, translational research and partnerships within the University of Tennessee, Oak Ridge National Laboratories and beyond, set the standard for modern medicine.
Posted August 9, 2016
Top
---