News and Events
COM Awards Dr. Purkey as Outstanding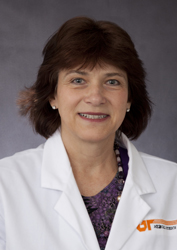 Janet Purkey, MD, FACP, Associate Professor and Medical Student Clerkship Director in Medicine, was awarded the 2016 Outstanding Physician and Teacher award by the Class of 2017 College of Medicine, University of Tennessee Health Science Center, Memphis, Tennessee. She was selected by the class based on her enthusiasm and passion for teaching medical students and excellence in patient care.
She was invited to speak to the Class of 2018 as the rising third-year students began their clinical rotations on May 2. Acting as an ambassador for physicians, she encouraged the incoming students giving examples of the challenges and unique learning experiences found only by direct patient care.
Dr. Purkey said, "Respect for each specialty is critical as we rely on pathologist and radiologist being the best physician as well as each surgeon, internist, gynecologist and subspecialist. Our patients rely on us to provide the best care possible. Focus on the things that are worthwhile. Live below your means to help you get out of debt from school."
She also encouraged them to be a team player and respect their colleagues. "Get to know all the team including not just the nurses, but the therapists, housekeepers, case managers and transport personnel."
Posted August 11, 2016
Top
---
The University of Tennessee Graduate School of Medicine
1924 Alcoa Highway
Knoxville, Tennessee 37920 | 865-305-9290
Copyright © 2019