News and Events
Chaplain Brad Hood Shares Elements of Sacred Storytelling August 10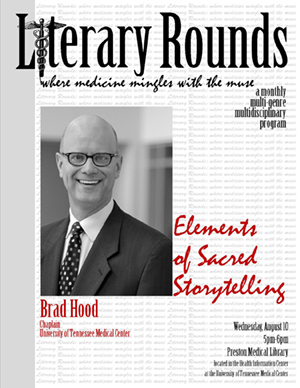 At the next meeting of Literary Rounds on Wednesday, August 10, Brad Hood, a chaplain at the University of Tennessee Medical Center, will share "Elements of Sacred Storytelling." As part of his presentation, Hood will share some of his own writing-stories told in the form of both poetry and prose.
Hood has been a hospital chaplain for more than 20 years and a story teller for much longer.  He says that being the father of a nearly 10 year old provides him with a lot of material.
Literary Rounds meets 5-6 p.m. in the Health Information Center/Preston Medical Library. The program is a monthly public reading and conversation series. Literary Rounds' attendees gain knowledge of literature and writing as important aspects in the practice of integrative healthcare; gain enhanced empathy skills and interpersonal communication skills by participating in discussions with a diverse community of participants; and gain appreciation of the role of literature and writing as contributing factors in total wellness—mind, body, and spirit.

Posted August 8, 2016
Top
---
The University of Tennessee Graduate School of Medicine
1924 Alcoa Highway
Knoxville, Tennessee 37920 | 865-305-9290
Copyright © 2019