News and Events
Dr. Goldman Honored with Heart Transplant Puppet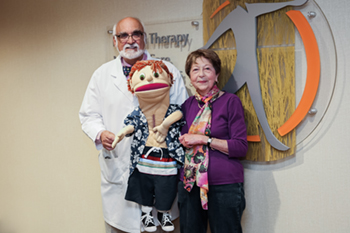 Mitchell Goldman, MD, Assistant Dean for Research and retired vascular surgeon, was presented with a special puppet known as Alex who was used to educate children and families about organ and tissue donation and transplantation through Kids on the Block, a troupe of education puppets. Trudy Dreyer, Alex's volunteer puppeteer, presented Alex to Dr. Goldman upon her and Alex's retirement from the organization.
Kids on the Block uses puppets to help children understand differences in one another and teach children how to protect themselves in difficult situations. According to its website, the organization was formed in response to a 1977 law that required children with disabilities to be educated in the least restrictive environment, which typically meant children were included in classrooms with non-disabled peers. The first puppet created was known as Mark Riley who represented a child with cerebral palsy.
To educate children on organ donation and transplantation, The University of Tennessee Medical Center's Center for Transplant Services secured a grant more than 20 years ago that Kids on the Block used to create Alex and two other puppets who told a story about a heart transplant. Alex's character was Alex Landry, an 11 year old who received a "new" heart because he had a condition known as cardiomyopathy. Another puppet, Melody James, was the sister of Darryll, whose heart Alex received, so Melody told about the donor perspective. Michael Riley was an 11 year old who was curious about both organ donation and transplants, so he helped to narrate Alex and Melody's story.
Dreyer said she chose to be Alex's puppeteer because her husband had had a heart transplant at Hunter Holmes McGuire VA Medical Center, where Dr. Goldman's work helped found the nation's first heart transplant program. When she and Alex retired from the Kids on the Block program, she wanted to give Alex to Dr. Goldman because he was instrumental in guiding her husband toward transplantation, and she thought Alex should go to someone who did transplants.
Learn more about Kids on the Blocks and its programs and puppets.
Posted July 25, 2016
Top
---