News and Events
UT Research Foundation Recognizes Innovation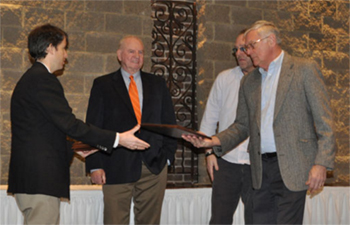 The UT Research Foundation (UTRF) recognized 88 University of Tennessee researchers, including several UT Graduate School of Medicine faculty and staff, for their discoveries and commercialization efforts made within the last two years during the 2016 Innovation Award Ceremony.
Honorees included recipients of patents from the U.S. Patent and Trademark Office, as well as inventors of technologies that were licensed to outside companies or who had created a start-up company based on their technology. From the UT Graduate School of Medicine, Jonathan Wall, PhD, Director of the Preclinical and Diagnostic Molecular Imaging Laboratory, and Stephen Kennel, PhD, Associate Professor in the PDMIL, received a plaque in recognition of their patent "Inhibitory Peptides of Viral Infection." Alison McNabb, Director of Health Information Management and Services, received a License Certificate for Medical Examiner Data Dashboard; Alexander Pasciak, PhD, Clinical Associate Professor of Radiology, received a License Certificate for An Affordable Digital X-Ray Detection System Based on a Consumer-Grade DSLR Camera; and Carmen Lozzio, MD, Retired Professor of Medicine, received a certficate for K562 Cell Line.
Dr. David Millhorn, UTRF President, said, "License agreements stemming from patented technologies generate revenue for the University and can develop into new companies, which contribute to local and regional economic development and impact the quality of life for Tennesseans,".
For the past two years, the University has been ranked among the top 100 universities in the world granted U.S. patents.
UTRF helps inventors at UT turn their ideas and discoveries into products and services that benefit society. In addition to supporting the university research enterprise and commercializing the resulting inventions, UTRF also supports entrepreneurship as well as state and regional economic development efforts. UTRF serves all seven of the UT campuses and institutes across the state. For more information, visit http://utrf.tennessee.edu.
Posted May 2, 2016
Top
---