News and Events
Chief Medical Officer Dr. Lacey Retires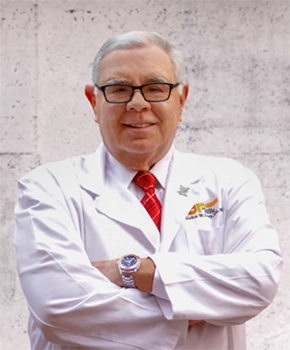 John "Jack" Lacey, III, MD, Clinical Assistant Professor of Medicine, Senior Vice President and Chief Medical Officer with nearly four decades of service at The University of Tennessee Medical Center, retired from his leadership role on March 31. Dr. Lacey began his internal medicine practice with UT in 1977 and will continue as clinical faculty for the UT Graduate School of Medicine.
"Dr. Lacey is not only one of the best doctors and most skilled physicians I've known, but he's also one of the finest individuals I've ever had the pleasure of meeting," said Joseph R. Landsman, Jr., president and CEO of The University of Tennessee Medical Center. "Jack's compassion, as well as his dedication to his patients and our community, is demonstrative of the leadership he has provided to our team members and this campus for nearly forty years."
In addition to Dr. Lacey's physician and administrative roles at the medical center, he is credited as the physician leader who helped create Knoxville Area Project Access, a partnership with the Knoxville Academy of Medicine as well as physicians and health systems in the Knoxville area that has provided pro bono primary and specialty healthcare services for the uninsured and medically underserved in the region since 2005. He additionally served, at the request of Tennessee Governor Bill Haslam, as the inaugural chair of the Governor's Health and Wellness Task Force, a group that formed in 2011 and unveiled a plan in 2013 to improve Tennessee's overall health as well as its standings in the annual America's Health Rankings study.
"Any accomplishments attributed to me are in truth the result of the supporting and partnering relationships I have been blessed with at The University of Tennessee Medical Center, as well as the unwarranted mercy and blessings of the good Lord," said Dr. Lacey. "All of our wonderful physicians have great skills and great hearts. I know this because I have never asked for help with a patient and not received it with great professionalism and expertise."
Having served in the Chief Medical Officer role at the medical center since 1998, Dr. Lacey's awards and contributions are numerous, but a few stand out as milestones. In 1991, he earned recognition by Ned McWherter, Tennessee Governor at the time, as the recipient of the Tennessee Outstanding Achievement Award. More recently, Dr. Lacey received a 2015 Tennessee Hospital Association Award of Excellence for devoting his career to improving healthcare in the community, region, and state. While continuing his administrative and physician practice roles into his final year at the medical center, Dr. Lacey also served as co-chair of the United Way of Greater Knoxville 2015 campaign, which reached its goal of raising more than $13 million to benefit Knoxville residents in need of education, income and health assistance.
Jim Neutens, PhD, Dean of the UT Graduate School of Medicine, said, "There is no doubt Dr. Lacey is a physician's physician not only in clinical care but also serving as an excellent role model for our medical students, residents, and faculty."
Jerry Epps, MD, who most recently served as Chair of the Department of Anesthesiology, succeeds Dr. Lacey as Senior Vice President and Chief Medical Officer.

Posted April 12, 2016