News and Events
Urology Program Adds Two Residency Positions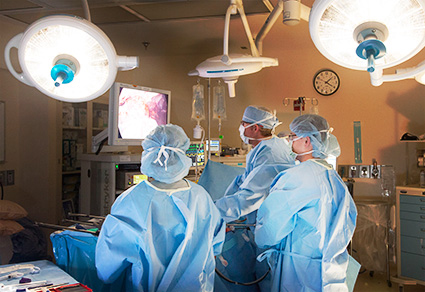 The Urology Residency program at the University of Tenenssee Graduate School of Medicine has been approved by the Accreditation Council for Graduate Medical Education for two additional residency positions for a total of eight residents each year in the four-year program. Since its inception in 2003, Urology has had six resident positions, alternating one to two categorical positions each year. Beginning in 2017, each first-year class will have two residency positions available. The program also received continued accreditation from ACGME.
The Mission Statement for the Program is to produce urologists with notable medical knowledge and extraordinary surgical skills; individuals who are leaders in the community and the field of urology. To develop compassionate, unselfish professionals interested in the care of and service to their patients and to thoroughly educate resident urologists in the seven competencies and encourage them to treat, comfort, teach, and improve their minds as part of a life-long learning process. To reach this goal, all residents will participate in clinical research as well as have extensive experience with both inpatient and outpatient evaluation and management of urologic patients with proper supervision. One pre-urology year must be completed in the UT Graduate School of Medicine Surgery program. The general surgery rotations include trauma, general surgery, surgical oncology, pediatric surgery, ICU, and vascular surgery.
The Urology Residency program is directed by W. Bedford Waters, MD, who is a Trustee Emeritus of the American Board of Urology, Inc., serving as its president from 2008 to 2009, secretary-treasurer, chairman of the executive committee, chairman of the finance committee, and chairman of the recertification committee during his tenure on the ABU from 2003 to 2012. Dr. Waters is also a member of the American Association of Genito-Urinary Surgeons and a new member of University Health System, Inc. Board of Directors.
Posted February 4, 2016
Top
---
The University of Tennessee Graduate School of Medicine
1924 Alcoa Highway
Knoxville, Tennessee 37920 | 865-305-9290
Copyright © 2019