News and Events
Dr. Stephenson Receives NIH Small Business Grant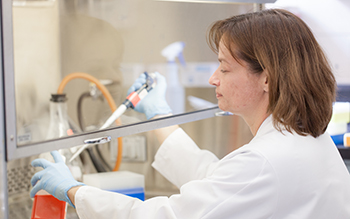 The National Institutes of Health (NIH), the primary agency in the U.S. responsible for biomedical and health-related research, has awarded University of Tennessee faculty Steven Ripp, PhD, research associate professor in the UT Center for Environmental Biotechnology, and Stacy Stephenson, MD, assistant professor and director of the UT Graduate School of Medicine Laboratory of Regenerative Medicine, a Small Business Innovation Research grant for a study to improve the tracking of cells used in regenerative medicine, a relatively new field of research.
Regenerative medicine is a form of translational research, which means the study starts in a laboratory setting with the potential to be used in patient care. Regenerative medicine involves stimulating the body's own repair mechanisms using cells to functionally heal damaged tissues or organs. Current estimates show that approximately one in three Americans could benefit from regenerative medicine, with applications to leukemia, Type 1 diabetes, cardiovascular diseases, neurodegenerative diseases, brain injuries and other traumatic injuries. Bone marrow transplants are one of the most commonly known regenerative therapies in medicine, commonly used to treat leukemia, lymphoma, multiple myeloma and immune deficiency disorders.
The study is in response to an NIH request for new techniques for non-invasive, long-term tracking of cell survivability, engraftment and migration following implantation. Assessing the fate of cells implanted into the body will allow for improved treatment effectiveness and an enhanced understanding of the potential risks of regenerative therapies.
The approach to following implanted cells is similar to how fireflies light up. A chemical reaction called bioluminescence creates light production in fireflies. This process occurs in specialized light-emitting organs, usually a firefly's lower abdomen. When mixed with oxygen, an enzyme known as luciferase causes the organ to light up. By equipping the regenerative cells with the ability to constantly glow, the cells' health and location can be tracked non-invasively.
The project involves creating a lentiviral delivery vector. Viral vectors are commonly used to deliver genetic materials into cells, and lentivirus is a type of virus that permanently integrates the genetic material into a cell's DNA so that it may be expressed constantly and passed down as the cell divides. The project is expected to be completed by June 2016.
In fiscal year 2015, NIH's small business programs invested over $780 million into early-stage health and life-science companies that are creating a wide range of innovative technologies to align with NIH's mission to improve health and save lives. Through internal research, NIH is the largest biomedical research institution in the world, and externally it provides more than $25 billion in research annually. Research through NIH funding is extremely competitive. Currently the UT Graduate School of Medicine has four research projects funded through NIH grants.
Posted February 25, 2016