News and Events
Dr. Baljepally Teaches Quick Thinking to Maintain Vascular Access in Heart Procedure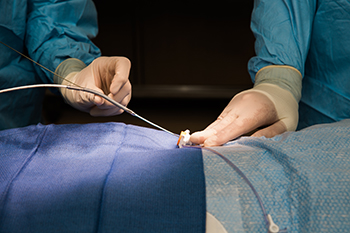 Cardiology Associate Professor Raj Baljepally, MD, had to think quickly on his feet to modify a heart catheter during an emergent procedure for a patient in cardiogenic shock. His quick thinking led to successful replacement of an Impella device, and with permission from the device manufacturer, Cardiology Fellow Scott Cook, MD, worked with Dr. Baljepally to recreate the steps taken to modify the Impella device for possible presentation at upcoming national Cardiology conferences and potential publication.
The patient case involved a 45-year-old man who presented with an acute ST-elevation myocardial infarction due to complete occlusion of his left anterior descending coronary artery. An Impella device was inserted due to low blood pressure and cardiogenic shock, which is a catheter-based pump designed to improve cardiac output and perfusion of blood to vital organs. The day after the primary procedure, the patient's blood pressure again dropped. An emergent echocardiogram showed the catheter had "kinked" and needed to be replaced. The design of the device did not allow for re-insertion of a guidewire to maintain vascular access. Dr. Baljepally's options were either to create a second arterial puncture, which increases risks for complications, especially since the patient was fully anticoagulated, or, as Dr. Baljepally chose, he could modify the device on the fly to maintain vascular access while removing the original catheter.
Using the UT Center for Advanced Medical Simulation, Dr. Baljepally and Dr. Cook re-created the procedure to outline the steps used to modify the Impella device. The resulting case report is already helping other interventional cardiologists when performing a necessary Impella exchange procedure.
Posted January 27, 2016
Top
---
The University of Tennessee Graduate School of Medicine
1924 Alcoa Highway
Knoxville, Tennessee 37920 | 865-305-9290
Copyright © 2019