News and Events
Dr. J. W. Hudson Receives Gies Foundation Award at AAOMS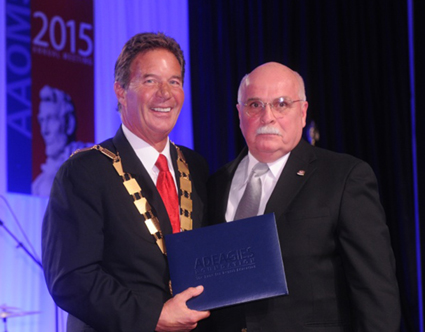 J.W. Hudson, DDS, Professor, Oral and Maxillofacial Surgery, received the William J. Gies Foundation Award during the opening ceremony of the 97th Annual Meeting, Scientific Sessions and Exhibition of American Association of Oral and Maxillofacial Surgeons in Washington, DC. The award recognizes Dr. Hudson's distinguished contributions to oral and maxillofacial surgery education. It is given annually in honor of William J. Gies, PhD, who co-founded the School of Dentistry at Columbia and led to the creation of the American Association of Dental Schools, to honor his name and recognize work that continues his legacy.
Dr. Hudson served for 16 years as program director to the OMFS Residency program. He has contributed in the fields of wound healing, hyperbaric medicine and Level I trauma care. Also, he helped formulate the inaugural AAOMS Parameters of Case document for cleft/craniofacial treatment.
In 1985, Dr. Hudson started the Hyperbaric Oxygen Therapy Unit at The University of Tennessee Medical Center for comprehensive treatment of osteomyelitis and osteoradionecrosis of the bimaxillary complex. In 2012, he was awarded the Southeastern Society of Oral and Maxillofacial Surgeons' Educator of the Year. He has contributed to and written 40 refereed articles, 11 book chapters, and three books. He was 1 of 12 authors for the 75th edition of theJournal of Oral and Maxillofacial Surgery. In 2008, he gave the Philip Maloney Presentation for the AAOMS Annual Meeting.
Dr. Hudson, a graduate of the UTHSC College of Dentistry, received his certification in oral and maxillofacial surgery at the UT Graduate School of Medicine. He is a diplomate of the American Board of Oral and Maxillofacial Surgery, including a time as a board examiner, and has been an active member on AAOMS committees.
Posted October 15, 2015
Top
---