News and Events
Students Learn Research through Collmann Opportunity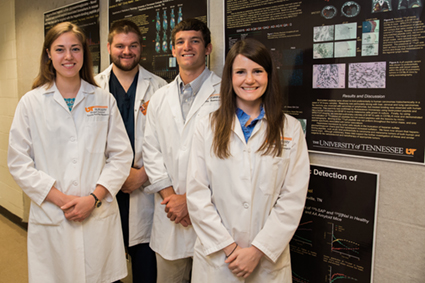 Medical students participated in bench research at the UT Graduate School of Medicine through the I. Reid Collmann, M.D. Medical Student Education Fund to give students an opportunity similar to that of former Dean I. Reid Collmann's own student research experience. The awareness of research's impact on patient care is information that will build a solid foundation for the remainder of the student's medical career.
Kyle Boden is a second-year medical student at ETSU Quillen College of Medicine. This summer he worked with Deidra Mountain, PhD, in the Vascular Research Lab in the Department of Surgery. The goal of his project was to gain a clearer understanding of the molecular mechanisms underlying the role of androgen deficiency in intimal hyperplasia development and restenosis. Specifically he studied the effects of androgen deficiency and testosterone replacement therapy on extracellular matrix remodeling, inflammation, and vascular smooth muscle cell proliferation.
Adrianna Eder graduated from the Brock Scholars Program at UT Chattanooga in May 2015 and is currently applying to medical school. She performed research in the lab of Michael Karlstad, PhD, testing the hypothesis that steroid-induced insulin resistance will increase the proportion of genetically susceptible mice that advance to diabetes. Furthermore, an objective of her project was to determine if peripheral insulin resistance, determined by an insulin tolerance test, is the early contributor to the increase in blood glucose levels and development of diabetes in genetically susceptible non-obese diabetic male mice. During the first 6 weeks of the study, the mice were administered corticosterone in their drinking water to induce diabetes, and the last 4 weeks of the study will determine if a washout of corticosterone will allow the mice to recover from corticosterone-induced hyperglycemia.
Jason Johnson is a second-year medical student at the University of Tennessee Health Science Center. This summer he worked in the Anesthesiology research lab of Ralph Lydic, PhD, and Helen Baghdoyan, PhD. His work focused on the role of the satiety factor leptin and leptin receptors as modulators of pain. These ongoing studies compare the effects of the opiate buprenorphine on nociception among normal weight mice, obese mice lacking leptin, and obese, diabetic mice lacking leptin receptors. Additionally, these studies tested the hypothesis of differential anti-nociceptive effects of buprenorphine between male and female mice. This research is clinically relevant for efforts to understand the mechanisms contributing to increased reports of pain that are associated with obesity.
Emily Paulus is second-year medical student at ETSU Quillen College of Medicine. This summer she worked in the research lab of Michael Karlstad, PhD, in the Department of Surgery. Her project studied the effects of bacteria on wound healing in normal and diabetic mice. Treatment and vehicle groups were given two splinted excisional wounds dorsally, and the treatment groups were inoculated with either Pseudomonas aeruginosa, Staphylococcus aureus, or Methicillin-resistant Staphylococcus aureus. The rates of healing and the comparative histochemistries were evaluated using quantitative imaging analysis. The results of her work precede the implementation of an atmospheric plasma applicator that is predicted to destroy biofilm formation. Generally, biofilms found on diabetic patient wounds cannot be treated and are why many patients require amputation. The overall aim of this study is to demonstrate that the atmospheric plasma applicator will be an effective therapy for biofilm-compromised wounds, which could ultimately prevent the need for amputation due to diabetic complications.
Posted September 3, 2015
Top
---