News and Events
Big 4 Cancer Conference Discusses Comprehensive Care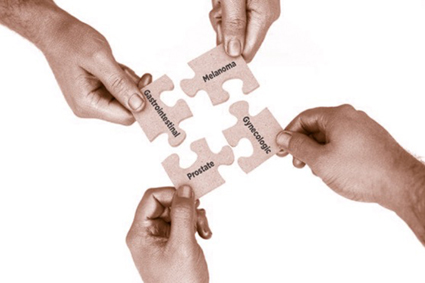 The Big 4 Cancer Conference - the "Next" 4 (Melanoma, Gastrointestinal, Gynecologic and Prostate Cancers) is set for October 9-10 in Knoxville, Tennessee. Appropriate for dermatology, family medicine, gastroenterology, general surgery, gynecology, internal medicine, oncology, pathology, pharmacy, radiology and urology, this conference will provide AMA and ACPE credits.
There is growing understanding nationwide of the need for a comprehensive approach to the treatment of cancer patients. Based on data from many scientific trials demonstrating the benefits of multimodal treatments for various cancers, the American College of Surgeons Commission on Cancer (CoC) is strongly encouraging member institutions to provide more emphasis on a cohesive, comprehensive, multidisciplinary approach to each individual cancer patient. A greater commitment on clinical trial accrual is also encouraged, and this is best coordinated via comprehensive cancer tumor board conferences. The timing of this meeting in the fall allows for the latest findings in clinical cancer research from major oncology conferences to be presented and discussed. This educational activity also meets a unique need for East Tennessee to provide a group of networked and collaborating practitioners to discuss the most recent developments in oncology care in the context of local treatment approaches and patient populations.
The Big 4 Cancer conference is offered by The University of Tennessee Medical Center Cancer Institute and UT Graduate School of Medicine. Registration and information are available at www.tennessee.edu/cme/Big4Cancer. For more information, contact Continuing Education and Professional Development at 865-305-9190 or CME@utmck.edu.
Posted September 15, 2015
Top
---
The University of Tennessee Graduate School of Medicine
1924 Alcoa Highway
Knoxville, Tennessee 37920 | 865-305-9290
Copyright © 2023