News and Events
Anesthesiology Resident Dr. Hatch Receives Scholarship to Train in Ethiopia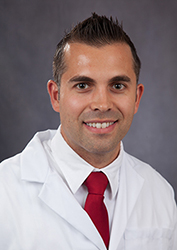 Micah Hatch, MD, third-year Anesthesiology resident, has been selected for an American Society of Anesthesiologists (ASA) Resident International Scholarship in Ethiopia. Dr. Hatch is among the first group of national anesthesiology residents to receive the scholarship from ASA's Committee on Global Humanitarian Outreach.
Dr. Hatch will spend one month in Ethiopia experiencing the challenges of delivering safe anesthesia in a low-resource, underserved area within a developing country as well as participate in training and education of local anesthesia providers. He will work at CURE Ethiopia, a primarily pediatric orthopedic teaching hospital in Addis Ababa under the direction of Mary Bernard, MD, an American Board of Anesthesiology-certified anesthesiologist.
The program is modeled after the successful Society for Education in Anesthesia (SEA) Health Volunteers Overseas (HVO) Traveling Fellowship. David Dahl, MD, Anesthesiology Alumnus, received a SEA-HVO Traveling Fellowship Award in 2013.

Posted July 9, 2015
Top
---
The University of Tennessee Graduate School of Medicine
1924 Alcoa Highway
Knoxville, Tennessee 37920 | 865-305-9290
Copyright © 2019