News and Events
UTGSM Adds Bariatrics and Robotics Fellowship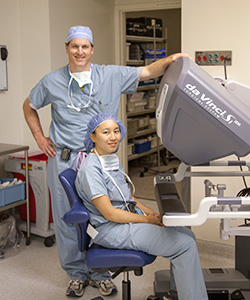 The UT Graduate School of Medicine has initiated a new Bariatrics and Robotics Fellowship (BRF), considered the first of its kind, and will begin training its first fellow July 1. The program is offered within the Division of General Surgery in the Department of Surgery and has provisional accreditation from the Fellowship Council, which oversees 150 non-ACGME (Accreditation Council for Graduate Medical Education) fellowship programs related to minimally invasive surgery and other gastrointestinal surgical specialties. A site visit is expected within the next six months.
This new fellowship program places the UT Graduate School of Medicine on the forefront of robotics fellowship training. Gregory Mancini, MD, Associate Professor of Surgery and BRF Director, said minimally invasive robotics is a growing field of medicine with several benefits. Namely, the tools used to perform the surgery can move in multiple directions, unlike traditional laparoscopic surgery, so physicians have better range of motion. Also, a camera projects the operation onto a screen that provides the physician with a three-dimensional view of the surgical area, so surgeons have better visualization throughout the procedure.
Dr. Mancini specializes in bariatric surgery, which he said is a growing need in Tennessee for obesity treatment. He said creating a fellowship program in this specialty not only helps meet this need but also enhances research and general surgery residency training in this field. Dr. Mancini said the department chose to add the robotics component because The University of Tennessee Medical Center offers a Comprehensive Robotics program, and this aspect of the program keeps the Graduate School of Medicine on the cutting edge as an early adopter of advanced technology training.
Hien Le, MD, will be the first fellow to enter the BRF program July 1, following graduation from the UTGSM General Surgery Residency. The fellowship is a one-year program that will include three months of bariatrics research, three months of simulated and hands-on robotics training, as well as three months in colon disease and robotics training and three months in gastroesophageal and robotics training.
Dr. Le said, "I have always enjoyed minimally invasive surgery and its challenges. I decided to do this fellowship because I see a lot of potential for robotics in the future. I believe robotics will definitely have a place in the future of general surgery, but the specifics are still to be defined. I look forward to what new technology will be available in my next 10 years of practice."
Posted May 30, 2014
Top
---