News and Events
Random Acts of Flowers Founder Shares His Story December 11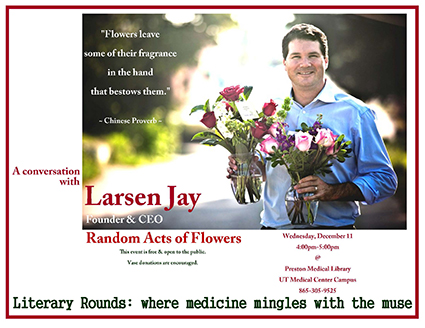 The December 11 Literary Rounds: Where Medicine Mingles with the Muse will feature Larson Jay, founder and CEO of Random Acts of Flowers. Founded in Knoxville in 2008, Jay is now expanding his organization nationwide. At Literary Rounds, Jay will share his personal story, telling how he became inspired to launch an organization that spreads smiles and supports healing.
In conjunction with Jay's visit, Donna Doyle, Poet-in-Residence who manages Literary Rounds, has organized a vase drive. Donations of unused vases may be dropped off at Preston Medical Library at the University of Tennessee Graduate School of Medicine on The University of Tennessee Medical Center campus. For more information, contact Doyle at 865-305-9525.
Literary Rounds is a monthly public reading and conversation series held on the second Wednesday from 4 to 5 p.m. at Preston Medical Library.
Posted December 4, 2013
Top
---
The University of Tennessee Graduate School of Medicine
1924 Alcoa Highway
Knoxville, Tennessee 37920 | 865-305-9290
Copyright © 2023