The Molecular Imaging & Translational Research Program
Radiopharmaceutical Infiltration Dosimetry Estimator (RIDE) Tool
Introduction
Radiopharmaceutical infiltrations can happen during routine injection for molecular imaging. In some cases, these infiltrations can go unnoticed but in many instances, staff are aware of the occurrence of an infiltration (1). If the provider is aware that an infiltration has occurred, imaging may be used to assess the injection site, however, new technologies are available that allow for real-time assessment of injections which can be used to monitor and reduce infiltration rates clinically(2). With increased attention on radiopharmaceutical injection due to new radiopharmaceutical therapies, more attention is being paid to this area and how it relates to patient care and image quality(3,4).

The Radiopharmaceutical Infiltration Dosimetry Estimator (RIDE) tool allows you to estimate the absorbed dose to an area of tissue using standard MIRD schema and accepted assumptions related to spherical geometries(5, 6). By providing information on the time activity curve associated with the injection as well as some routine scan information, this tool will provide an estimate of the absorbed dose to a patient for a given set of injection parameters. Validation of dosimetry conversion factors used in this tool was performed by comparing calculations with two wide accepted dosimetry packages, OLINDA and IDAC.

Please note: This tool is not approved by the FDA, nor is it meant to provide any sort of diagnostic information. This tool is for guidance and reference only.
The utilities are offered as an interactive web app, a downloadable spreadsheet, and a printable manual calculation.

Click on the links below to access the desired version of the RIDE tool.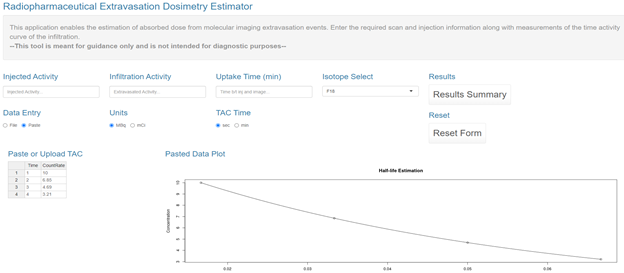 You will need the following information:
Injected dose
Measurement of total activity in the infiltrated region (MBq or mCi)
Time delay between injection and imaging
Isotope
Time activity curve data of the infiltration. (activity concentration in MBq/mCi and minutes (m) or second (s)
RIDE Web App Link
Radiopharmaceutical Infiltration Dosimetry Estimator
RIDE Characterization Spreadsheet
RIDE Downloadable Manual Calculation Form (mCi)
RIDE Downloadable Manual Calculation Form (Mbq)
Publications
Osborne DR, Acuff SN, Fang M, Weaver MD, Fu Y. Assessing and reducing PET radiotracer infiltration rates: a single center experience in injection quality monitoring methods and quality improvement. BMC medical imaging. 2020;20(1):1-7.
Wong TZ, Benefield T, Masters SC, Kiser JW, Crowley JR, Osborne D, et al. Findings from Quality Improvement Initiatives to Assess and Improve PET/CT FDG Injection Infiltration Rates in Multiple Centers. Journal of Nuclear Medicine Technology. 2019.
van der Pol J, Voo S, Bucerius J, Mottaghy FM. Consequences of radiopharmaceutical extravasation and therapeutic interventions: a systematic review. European journal of nuclear medicine and molecular imaging. 2017;44(7):1234-43.
Osborne D, Lattanze R, Knowland J, Bryant TE, Barvi I, Fu Y, et al. The Scientific and Clinical Case for Reviewing Diagnostic Radiopharmaceutical Extravasation Long-Standing Assumptions. Frontiers in Medicine. 2021;8(964).
Osborne D, Kiser JW, Knowland J, Townsend D, Fisher DR. Patient-specific Extravasation Dosimetry Using Uptake Probe Measurements. Health Phys. 2021;120(3):339-43.
Bolch WE, Eckerman KF, Sgouros G, Thomas SR. MIRD Pamphlet No. 21: A Generalized Schema for Radiopharmaceutical Dosimetry—Standardization of Nomenclature. Journal of Nuclear Medicine. 2009;50(3):477-84.
---
The University of Tennessee Graduate School of Medicine
1924 Alcoa Highway
Knoxville, Tennessee 37920 | 865-305-9290
Copyright © 2023