The Department of Obstetrics and Gynecology
C. Bryce Bowling, MD
Assistant Professor
Division of Urogynecology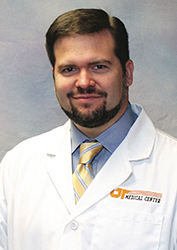 Education
Medical School
University of Tennessee Health Science Center Memphis, TN
Internship
University of Tennessee Health Science Center Memphis, TN
Residency
University of Tennessee Health Science Center Memphis, TN
Fellowship
Female Pelvic Medicine and Reconstructive Surgery, University of Alabama Birmingham, AL
Certification
American Board of Obstetrics & Gynecology
Female Pelvic Medicine & Reconstructive Surgery, FPMRS Division of the American Board of Obstetrics & Gynecology
Professional Affiliations
Fellow of the American Congress of Obstetrics & Gynecology
Society of Gynecologic Surgeons
American Urogynecologic Society
International Continence Society
Current Publications
Ellington D, Mann M, Bowling C, Drelichman E, Greer W, Szychowski J, Richter H.
Pelvic floor symptoms and quality of life analyses in women undergoing surgery for rectal prolapse. The World Journal of Colorectal Surgery. 2013 Dec;3(3).
Current Presentations
Schwirian K, Bowling C. Robotic-assisted laparoscopic removal of eroded transobturator midurethral sling after failed cystoscopic excision. Presented at Society of Gynecologic Surgeons 42nd Annual Scientific Meeting; 2016 Apr 10-13; Palm Springs, CA.
Lenger SM, Yates AD, Bowling CB. A novel approach to cystoscopic mesh excision. Presented at American Urogynecologic Society PFD Week 2015; 2015 Oct 13-17; Seattle, WA.
Top