The Department of Anesthesiology
Che A. Solla, MD, MBA
Assistant Professor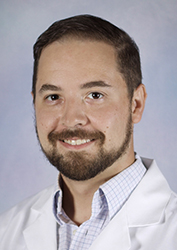 Clinical Focus
Pain Medicine
Education
Medical School
University of Tennessee Health Science Center, Memphis TN, 2010
Residency
Anesthesiology, Walter Reed National Military Medical Center, Bethesda MD, 2014
Fellowship
Pain Medicine, Weill Cornell Medical Center, New York NY, 2019
Graduate School
Physician Executive Master of Business Administration (MBA), University of Tennessee Knoxville Haslam College of Business, Knoxville TN, 2021
Certification
Diplomate American Board of Anesthesiology, 2015
Subspecialty certification in Pain Medicine, American Board of Anesthesiology, 2019
Current Publications
Spiegel MA, Chen GH, Solla AC, Hingula LP, Legler A, Gulati A.
Evaluation of an intrathecal drug delivery protocol leads to rapid reduction of systemic opioids in the oncological population. Journal of Palliative Medicine. 2021 Mar;24(3):418-422. Epub 2020 Jul 8.
Mainkar O, Solla CA, Chen G, Legler A, Gulati A.
Pilot study in temporary peripheral nerve stimulation in oncologic pain. Neuromodulation. 2020 Aug;23(6):819-826. Epub 2020 Mar 17.
Bleckner L, Solla C, Fileta BB, Howard R, Morales CE, Buckenmaier CC.
Serum free ropivacaine concentrations among patients receiving continuous peripheral nerve block catheters: is it safe for long-term infusions? Anesthesia and Analgesia. 2014 Jan;118(1):225-9.
Top