News and Events
Dr. Waters Recognized for Lifetime Achievement in Urology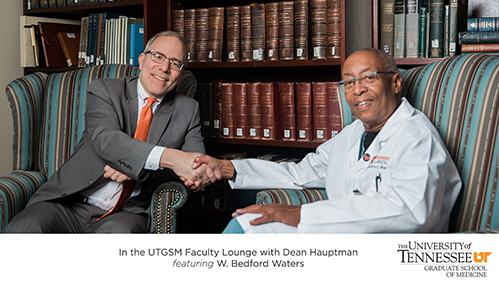 W. Bedford Waters, MD, Professor and Chairman of the Department of Urology at the University of Tennessee Graduate School of Medicine, passed away earlier this year. Among his many career achievements, he was awarded the 2019 Lifetime Achievement Award of the American Urologic Association just weeks before his passing. Paul J. Hauptman, MD, Dean, said, "He was a giant of a man in many different ways and his death is a huge loss to our GSM and University of Tennessee Medical Center family."

After graduating from Vanderbilt University with a Bachelor of Arts degree in 1970, Dr. Waters became only the second African American graduate of the Vanderbilt University School of Medicine in 1974. His matriculation was made possible through the generosity of an anonymous donor. He completed an internship and year of residency in surgery at the University of California-San Diego and then trained at the Harvard Program in Urology from 1976-1980.

Since the day his formal training ended, Dr. Waters gave back to the profession and to his patients. He practiced for 21 years in the Chicago area including at Loyola, Cook County Hospital and the Hines VA Medical Center. Dr. Waters joined the GSM faculty and the UTMC in 2001. During his remarkable tenure here, he championed the formation of a new Department of Urology; initiated the urology training program; and was a strong and consistent advocate for early prostate cancer screening in underserved populations with limited health care access. His practice focused on urologic cancers of the kidney, bladder, testes and prostate, and he garnered national recognition for his work. He was a visiting professor at many prestigious medical schools including Harvard, The University of Michigan, UCLA and Tulane. The author of 75 peer reviewed manuscripts, 18 book chapters and countless abstracts, Dr. Waters lectured locally, regionally, nationally and internationally. In the last few years, he garnered multiple awards and honors, reflecting his contributions to the field and his remarkable personal story.

He served on the Boards of the Society of University Urologists and the Society of Urologic Oncology. As a teacher and mentor, he was recognized for talent in teaching, mentoring, clinical care and research. He was granted the GSM Excellence in Teaching Award and the honorific of Vanderbilt University Pioneer in Education, Science and Medicine. Befitting his place as a trailblazer, Dr. Waters was also the first African American member of the prestigious American Association of Genitourinary Surgeons, and the first African American visiting professor at the UCLA Urology program.

Most notably, he helped countless patients and families navigate through illness, with compassion and caring. His singular focus on the patient has influenced multiple generations of urologists in training. Dr. Waters was the consummate "surgeon's surgeon", but it was his dedication to patients and to his trainees that will undoubtedly be his greatest legacy. Upon hearing of his death, the Chairman of Urology at UCLA wrote "W. Bedford Waters MD transformed many lives as a physician, leader, teacher, mentor and friend". More insight into his career and contributions can be obtained by viewing a recent interview which can be accessed here: https://www.youtube.com/watch?v=t40aQyIpQ68

Medical care in East Tennessee took a step forward in 2001 when Dr. Waters moved to Knoxville. His warmth, generosity and dedication will be profoundly missed. A memorial service was held in his honor at the Knoxville Museum of Art in June.

Posted September 17, 2019
Top
---