News and Events
Dr. Wesley White Named Interim Chair of Urology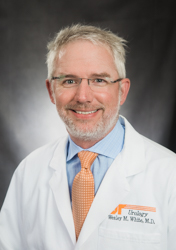 Dr. Paul J. Hauptman, Dean of the University of Tennessee Graduate School of Medicine, named Wesley M. White, MD, Associate Professor, as Interim Chairman of the Department of Urology effective July 15.
Dr. White is a graduate of both the University of Tennessee, Knoxville (B.A., summa cum laude) and the University of Tennessee College of Medicine (with highest honors). In addition to his residency training in general surgery and urology at the UT Graduate School of Medicine, Dr. White served as a Fellow in Laparoscopic and Robotic Urologic Surgery at the Cleveland Clinic. He assisted Dr. W. Bedford Waters as the Vice Chair of the Department beginning in July 2017 and as Director of Laparoscopic and Robotic Urologic Surgery since 2009. Dr. White is recognized for his work in the field and has presented at multiple national and international academic meetings. He serves as an Associate Editor for the journal Urology and has authored or co-authored 10 book chapters and more than 70 publications. He has garnered a number of awards for his presentations and teaching.
Dean Hauptman said, "Dr. White has an ambitious plan for the Department, and I look forward to working with him to ensure continuity of our clinical, research and educational missions. While the Graduate School of Medicine and the Knoxville medical community at large lost a great leader in Dr. Waters in May, his legacy lives on in today's announcement. Please join me in congratulating Dr. White on his appointment."
Posted July 10, 2019
Top
---
The University of Tennessee Graduate School of Medicine
1924 Alcoa Highway
Knoxville, Tennessee 37920 | 865-305-9290
Copyright © 2023