News and Events
Dentistry Offers First Forensic Dentistry Fellowship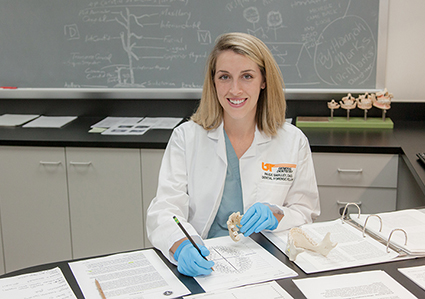 Forensic dentistry, sometimes used to aid in solving criminal cases involving bite marks, is the method of identifying people through the unique characteristics of their dental structures. While these techniques are often featured in crime scene dramas, there are only just over 100 dental experts in the United States and Canada certified by the American Board of Forensic Odontology. The requirements for board certification are rigorous, and until now an academic-based program for dentists has not been available in the United States.
Using resources available through the Regional Forensic Center, the Department of General Dentistry has launched the first Forensic Dentistry Fellowship, chaired by O. Lee Wilson, DMD. Paige Smalley, DMD, Dentistry Residency alumnus, is the first fellow to participate in the one-year program. She said that board certification is a four-year process, but using the knowledge and advanced expertise gained from this program, she hopes to earn board certification.
Under the guidance of Murray Marks, PhD, Associate Professor of General Dentistry and Regional Forensic Center forensic anthropologist, the program will expose Dr. Smalley to the training she needs including workshops on Civil Litigation, Age Estimation, Disaster Victim Dental Identification, and Bite Mark Analysis. The fellow must also complete 30 dental identifications including oral autopsies and bite mark analysis. The Forensic Dentistry Fellowship will also include didactic training with rotations in Pathology, Radiology and Forensic Pathology.
Dr. Smalley will also participate in a research project with Dr. Marks and William Bass, PhD, founder of UT's forensic anthropology program, looking at the length of time it takes the periodontal ligament to decompose, which releases the teeth from the alveolar bone after exposure to a variety of natural elements such as temperature. The goal of this project is to provide forensic experts with another tool to determine approximate time since death.
In addition to Dr. Marks and Dr. Bass, Forensic Dentistry Fellowship faculty include Mike Tabor, DDS, and Richard Weems, DMD. Dr. Tabor is Chief Forensic Odontologist for the office of the state medical examiner for Tennessee and Davidson County in Nashville.  He has served as president of the American Board of Forensic Odonotology, as well as section chairman and Fellow of the American Academy of Forensic Science. He is presently a consultant to the Criminal Investigation Division for the Tennessee Bureau of Investigation. He has now been appointed as Clinical Assistant Professor in the department of General Dentistry.
Dr. Weems is retired Associate Professor of Dental Radiology at University of Alabama School of Dentistry in Birmingham, Alabama. He now serves as chief forensic odontologist for the Office of the Medical Examiner of Jefferson County in Birmingham. He is current president of the American Society of Forensic Odontology and past odontology chairman of the American Academy of Forensic Science and secretary of the American Board of Forensic Odontology. He is now Associate Clinical Professor in the department of General Dentistry.
Dr. Smalley said she did not aspire to be a forensic odontologist when she went to dental school, but she developed an interest in the field through exposure during her residency program. She said that she sees dental identification as a way to use her skills and expertise to help families.
"I find it interesting that by using something as little and unique as a tooth, I can help families identify a loved one," she said.
Posted October 30, 2014