The Department of Surgery
Tom Masi, PhD
Assistant Professor
Division of Surgical Research
Research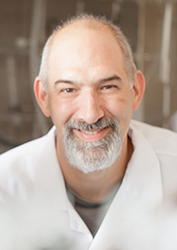 Research Focus
The Laboratory of Regenerative Medicine focuses on novel approaches for re-growing bone and nerves that have been damaged due to injury. Drs. Stephenson and Masi are particularly interested in healing bone and nerve damage in the arms and legs using carbon-based nanomaterials - structures that directly stimulate the growth of fat-derived adult stem cells to become new bone and nerve cells to repair injuries. They have recently shown that, using these materials, new nerve and bone cells can be generated that might one day be used clinically to repair damaged tissues. The laboratory is also investigating whether new blood vessels can develop within these therapeutic nanomaterials to help improve nerve and bone growth leading to enhanced tissue regeneration. Their long-term goal is to improve care and outcomes of patients by using their own body's fat-derived adult stem cells to repair injuries that cannot be treated by traditional methods.
Education
Florida State University, Tallahassee, Florida, 2001
PhD
Current Publications
Newby SD, Masi T, Griffin CD, King WJ, Chipman A, Stephenson S, Anderson DE, Biris AS, Bourdo SE, Dhar M.
Functionalized graphene nanoparticles induce human mesenchymal stem cells to express distinct extracellular matrix proteins mediating osteogenesis. International Journal of Nanomedicine. 2020 Apr 15;15:2501-2513. eCollection 2020.
Wofford A, Bow A, Newby S, Brooks S, Rodriguez R, Masi T, Stephenson S, Gotcher J, Anderson DE, Campbell J, Dhar M.
Human fat-derived mesenchymal stem cells xenogenically implanted in a rat model show enhanced new bone formation in maxillary alveolar tooth defects. Stem Cells International. 2020 Feb;2020:8142938.
Yip D, Kirkpatrick A, Xu T, Masi T, Stephenson S, Ripp S, Close D.
Continuous and real-time in vivo autobioluminescent imaging in a mouse model. Methods in Molecular Biology (Clifton, N.J.). 2020;2081:191-201.
Jackson JW, Hancock TJ, LaPrade E, Dogra P, Gann ER, Masi TJ, Panchanathan R, Miller WE, Wilhelm SW, Sparer TE.
The human cytomegalovirus chemokine vCXCL-1 modulates normal dissemination kinetics of murine cytomegalovirus in vivo. mBio. 2019 Jun 25;10(3).
Alghazali KM, Newby SD, Nima ZA, Hamzah RN, Watanabe F, Bourdo SE, Masi TJ, Stephenson SM, Anderson DE, Dhar MS, Biris AS.
Functionalized gold nanorod nanocomposite system to modulate differentiation of human mesenchymal stem cells into neural-like progenitors. Scientific Reports. 2017 Nov 30;7(1):16654.
Current Presentations
Alghazali KM, Newby SD, Nima ZA, Hamzah RN, Watanabe F, Bourdo SE, Masi TJ, Stephenson SM, Anderson DE, Dhar M, Biris AS. A novel bioactive system based on surface-functionalized plasmonic nanosystems for tunable biological surfaces. Presented at 42nd Society for Biomaterials Annual Meeting and Exposition: The Pinnacle of Biomaterials Innovation and Excellence; 2019 Apr 3-6; Seattle, WA.
Top