The Department of Surgery
Mitchell H. Goldman, MD, FACS
Professor
Division of Vascular & Endovascular Surgery
Division of Transplant Surgery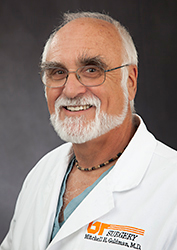 https://orcid.org/0000-0002-3667-1477
Clinical Focus
Wound Care
Research Focus
Arterial and Venous Disease, Surgical Education, Performance Improvement
Education
Medical School
Harvard University, Boston, MA
Internship
General Surgery, Peter Bent Brigham Hospital, Boston, MA
Residency
General Surgery, Peter Bent Brigham Hospital, Boston, MA
Certifications
American Board of Surgery
Special Competence in Vascular Surgery
Professional Affiliations
Transplantation Society
Cum Laude Society
Fellow, American College of Surgeons
Association for Academic Surgery
American Society of Transplant Surgeons
Association for Surgical Education
International Society for Heart and Lung Transplantation
Southern Association for Vascular Surgery, Board 1996-1999 and 2003-2007
Society of University of Surgeons
International Society for Cardiovascular Surgery
Southern Surgical Association
United Network for Organ Sharing
Society for Vascular Surgery
Society of Vascular Technology, Honorary Member 1992
Association of Program Directors in Surgery
Association of Program Directors in General Vascular Surgery
Current Publications
Buckley MR, Terry PD, Kirkpatrick SS, Arnold JD, McNally MM, Grandas OH, Freeman MB, Goldman MH, Whelan J, Mountain DJ.
Dietary supplementation with Zyflamend poly-herbal extracts and fish oil inhibits intimal hyperplasia development following vascular intervention. Nutrition Research (New York, N.Y.). 2019 Jun 8;68:34-44.
Terry PD, Knight M, Bollig R, Heidel RE, Miller P, Quinn MA, Daley B, Goldman M.
Overreliance on standardized protocols: A pilot study of surgical residents and fellows. The American Surgeon. 2017 May 1;83(5):159-161.
Jagadish M, McNally MM, Heidel RE, Teffeteller S, Arnold JD, Freeman M, Stevens SL, Grandas OH, Goldman MH.
Diabetic foot ulcers: The importance of patient comorbidity recognition and total contact casting in successful wound care. The American Surgeon. 2016 Aug;82(8):733-736.
Current Presentations
Gregory LB, Grandas OH, Tayidi IT, Buckley MR, Arnold JA, Cantafio AW, Stevens SL, Freeman MB, Goldman MH, McNally MM. Contemporary clinical and financial analysis of open versus percutaneous mechanical thrombectomy for occluded hemodialysis access Presented at Southern Association of Vascular Surgery; 2018 Jan 16-20; Scottsdale, AZ.
Tonks S, Lee S, Freeman MB, Grandas OH, Stevens SL, Goldman MH, McNally MM, Arnold JD. Threatened AV access with central venous obstruction: Thoracic outlet decompression versus hero graft. Presented at Southeastern Surgical Congress; 2017 Feb 25-28; Nashville, TN.
Warner K, Buckley R, Mountain D, Kirkpatrick S, Whelan J, Terry P, Goldman M, Freeman M, Grandas O. Zyfamend+Wholemega fatty acid combinatorial therapy inhibits intimal hyperplasia via the attenuation of M2 macrophage differentiation in a rodent model of vascular injury. Presented at Southern Association for Vascular Surgery; 2017 Jan 18-21; Naples, FL.
Top