The Department of Surgery
Alex W. Cantafio, MD, FACS
Assistant Professor
M4 Clerkship Director, Surgery
Division of Transplant Surgery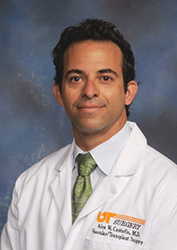 Clinical Focus
Kidney, Pancreas and Liver Transplantation, Hepato-Pancreatico-Biliary Surgery, Vascular Access
Research Focus
Dr. Cantafio's research is focused on provider wellness and the design of a comprehensive recovery and performance management program for health care staff. The initiative includes digital education and personal coaching in the areas of sleep, nutrition and self-care. He has measured physiologic parameters of stress and sleep quality, and uses self-reported aspects of well-being through a mobile phone app. Preliminary results indicate that interventions directed at the individual provider can improve well-being, which is believed to be tied to improved physician decision-making, patient outcomes, and physician-patient communication.
Education
Medical School
Albert Einstein College of Medicine, Bronx, NY
Internship
General Surgery, Phoenix Integrated Surgical Residency, Phoenix, AZ
Residency
General Surgery, Phoenix Integrated Surgical Residency, Phoenix, AZ
Fellowship
Transplantation, University of Washington, Seattle, WA
Certification
American Board of Surgery
Professional Affiliations
American Hepatico Pancreatico Biliary Association
American Society of Transplantation
American Society of Transplant Surgery
The Henry N. Harkins Surgical Society
Current Presentations
Gregory LB, Grandas OH, Tayidi IT, Buckley MR, Arnold JA, Cantafio AW, Stevens SL, Freeman MB, Goldman MH, McNally MM. Contemporary clinical and financial analysis of open versus percutaneous mechanical thrombectomy for occluded hemodialysis access Presented at Southern Association of Vascular Surgery; 2018 Jan 16-20; Scottsdale, AZ.
Top