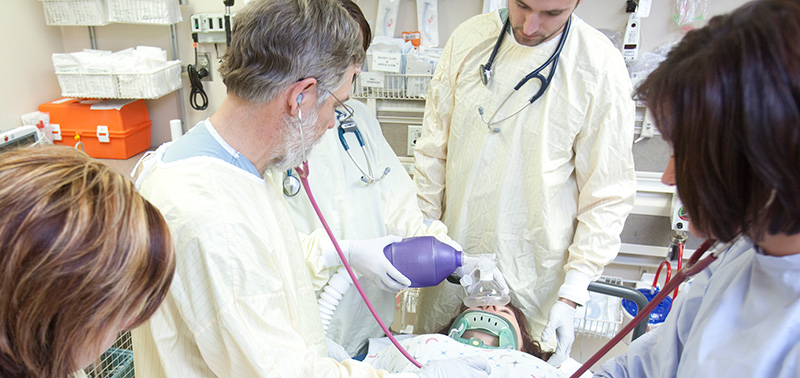 The Surgical Critical Care Fellowship Program
Program Description
The Fellowship in Surgical Critical Care is based in the Department of Surgery. The Division of Trauma and Surgical Critical Care is organized to provide continuity of care throughout the course of the acutely injured or critically ill surgical patient. The Surgical Critical Care (SCC) fellowship is an integral part of this organization and the candidate will be involved with all aspects of a trauma/surgical patient's care. The fellowship is a two year program, which includes a yearlong experience as an Acute Care Surgeon while earning an MBA degree from the University of Tennessee Haslam College of Business in Knoxville and one year of dedicated ICU experience. Eligibility requirements include that the fellow candidate must be board certified or board eligible in General Surgery.
The Physician Executive MBA (PEMBA) program at the University of Tennessee will teach our fellow the specific application of business principles in a healthcare environment. Operational flow management/LEAN processes, financial and accounting principles, negotiation techniques/processes, and contract applications are only some of the skills covered during the year-long matriculation at the Haslam College of Business. The University of Tennessee PEMBA is the longest running and most highly respected physician-only MBA offered nationwide.

The PEMBA program's structure is an average time commitment of 24 hours per week for reading and assignments, with classes one day a week, and most assignments related directly to physicians' daily work. The program combines 40 online learning sessions with four one-week residence periods on the University of Tennessee campus. During the residence periods, participants take classes, meet with faculty advisors and leadership development coaches, and work on project teams with peers. Due to the PEMBA program structure of January to December the fellowship will be split with five months prior and seven months after the conclusion of the PEMBA program.
YEAR 1

August - December

January - July

Clinical Fellow

MBA Program

YEAR 2

August-December

January - July

MBA Program

Clinical Fellow
Our Facility
The SCC fellowship is an integral component of the Division of Trauma and Surgical Critical Care, and resides within the Department of Surgery. The Trauma Service cares for over 6,800 patients annually, as the regions only state designated and ACS verified Level 1 Trauma Center. With 32 adult surgical ICU beds, the trauma service at UT Medical Center has over 4,400 annual trauma admissions, 30 percent of whom require a critical care admission. The majority of the Surgical Critical Care patients are admitted to the Trauma Surgical Intensive Care Unit. Other critical care units which are occasionally utilized as overflow include a Cardiovascular Intensive Care Unit (CVICU), a Medical Intensive Care Unit (MICU), and a Neurocritical Care Unit (NCC). Time may also be spent by the fellow on the Pediatric Trauma/Critical Care Service.
Expectations
The fellow will be engaged in leading the Surgical Critical Care Service, which consists of dual board certified trauma attendings, two residents, A MLP/ACP and fourth year medical students on elective, as well as a multidisciplinary ICU team including a PharmD, respiratory therapist, PT/OT team and ICU nurses. The surgical critical care fellowship experience includes all aspects of surgical critical care, combining the surgical, medical and administrative responsibilities. The fellow will daily interact with all members of the SCC team and facilitate multidisciplinary consultations with associated surgical and non-surgical services. The fellow is expected to participate in resident, student, and nursing education. Conferences to be attended include those of the Division of Trauma/Critical Care and those of the Department of Surgery. Research is felt to play a vital role in trauma and critical care; therefore, the fellow is expected to conduct clinical and/or basic science research.
Application Information
Prerequisites
Completion of an approved general surgical residency and board certification or eligibility by the American Board of Surgery or American Osteopathic Board of Surgery.
Application Process
The University of Tennessee Graduate School of Medicine is offering positions in a two-year Surgical Critical Care Fellowship.
UT is a Level I Trauma Center with more than 6,800 annual trauma admissions and 32 adult surgical ICU beds. Research interests are encouraged.
All applicants should submit an application and the following through Surgical critical care and Acute care surgery Fellowship Application Service (SAFAS).
Résumé or Curriculum Vitae
Personal Statement
Transcript
ABSITE scores
USMLE scores
Three Letters of Recommendation