UT Center for Advanced Medical Simulation
Paul J. Huffstutter, MD
Assistant Professor
Co-Director, UT Center for Advanced Medical Simulation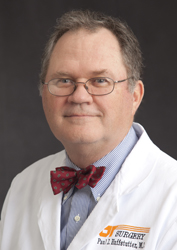 Education
Medical School University of Tennessee Health Sciences Center
Memphis, TN
1973
Internship
Rotating Medicine
Baptist Memorial Hospital
Memphis, TN
1974
Residency
General Surgery
University of Tennessee Affiliated Hospitals
Memphis, TN
1979
Certification:
CITI Course for Human Subjects Research
Memberships
American College of Surgeons (Fellow)
Harwell Wilson Surgical Society
Society for Simulation in Healthcare
Association of Surgical Educators
Alpha Omega Alpha Honor Society

Personal Statement
Prior to joining the faculty as Co-Director of the Simulation Lab, my background as a general and vascular surgeon presented a broad experience with the practice of surgery and its associated complications. The variations in the education of technical skills across different specialties, as well as, the failure of medical teams to fully cooperate became increasingly evident over time. The benefits of simulation for teaching psychomotor skills in a precise and orderly manner to resident physicians are well documented. Health care workers train as individuals but we take care of patients as teams. Complications associated with dysfunctional teams are costly. As Co-Director of the Simulation Center, I have been involved in building curricula using current education theories for learner instruction and practice. Team training will be a must for the healthcare of our future and a "life time of learning" will be imperative for its providers. Simulation has become an important method for careful analysis and delivery of what we teach, allowing for supervised practice in a safe environment prior to clinical care. Changing the faculty culture through a standardized program using simulation remains our current goal, thus improving patient safety and cost.
Top
---
The University of Tennessee Graduate School of Medicine
1924 Alcoa Highway
Knoxville, Tennessee 37920 | 865-305-9290
Copyright © 2019