The Department of Medicine
Pulmonary Disease/Critical Care Medicine Fellowship Program
This three-year, ACGME approved program is supported by excellent faculty with diverse expertise, whose goal is the provision of exceptional patient care in an atmosphere that encourages scholarship, research and inquiry, culminating in the development of competent and compassionate pulmonologist/intensivists.
The fellow has a broad variety of inpatient and outpatient experience. In addition to their continuity clinic, they have subspecialty clinics in pulmonary hypertension (PHTN), interstitial lung disease, cystic fibrosis (CF), interventional pulmonary (IP), lung cancer and sleep medicine. There is also CF/PHTN/lung transplantation and burn unit experience at Vanderbilt University. Trainees experience world-class teaching in IP with extensive exposure to a variety of interventional procedures. They develop clinical expertise as leaders of a multidisciplinary team in the ICU, with extensive exposure both clinically and procedurally to critically ill patients with multi system organ failure.
Graduating fellows over the past four years have had 100% board pass rate, have chosen both academic and private practice careers, and have pursued additional subspecialty training as well.
Our Campus
Center of Excellence
The Heart Lung Vascular Institute is one of the medical center's six Centers of Excellence. Each center is dedicated to providing comprehensive care to patients and expert commitment plays a critical role in the hospital's ongoing success. The Heart Lung Vascular Institute brings together expertise in clinical care, teaching and research. Patients receive exceptional healthcare combined with patient-centered care, premier technology and extensive patient/community education in one convenient outpatient facility.
Program Strengths
The fellowship program is an integral part of the University of Tennessee Graduate School of Medicine Department of Medicine program that has been in existence since 1956, with continued full accreditation since its inception.


UTGSM provides fellows with an excellent support system, including nursing, pharmacy, library, laboratory, nutritional support, social workers, consultative support from subspecialists, and an excellent Resident Assistance Program. The University of Tennessee Medical Center has state-of-the-art diagnostic and therapeutic facilities.

UTGSM is minutes away from the University of Tennessee, Knoxville, main campus and has the resources of this large institution at its disposal. UTGSM has a close working relationship with the University of Tennessee Health Science Center. College of Medicine, located in Memphis. Teachers and researchers at UTGSM collaborate and share facilities with colleagues at the prestigious University of Tennessee College of Veterinary Medicine, Knoxville, and Oak Ridge National Laboratories.

UTGSM draws patients from a large geographic area in East Tennessee, southeast Kentucky, northwest North Carolina, and western Virginia. University of Tennessee Medical Center is a Level 1 Trauma Center. Due to the tertiary referral nature of the university program, a large number of patients with a broad spectrum of clinical pathologies are available for both clinical experience and research studies.

The fellowship faculty practice, University Pulmonary and Critical Care is located in offices connected to the hospital and is part of the University of Tennessee Medical Center's Heart Lung Vascular Institute (HLVI). The University of Tennessee Heart Hospital, which opened in 2010, is a $26 million four-story building to provide expanded inpatient hospital services for the University of Tennessee Medical Center's HLVI.
Fellowship Director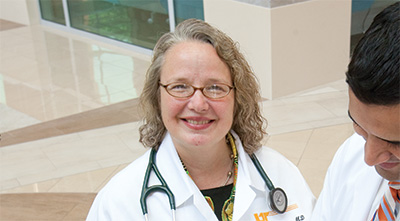 Tina M. Dudney, MD, is the Chief of the Division of Pulmonary and Critical Care Medicine. Dr. Dudney's research interests include: critical illness in pregnancy, thromboembolic disease, and circadian rhythm/sleep disorders in the critically ill.
More
---
What Our Fellows Are Saying:
"I left my internal residency program believing it was one of my best experiences in life only to find out that my experience at my fellowship was even better by far!! The people here are awesome, from the coordinator to the faculty to my co-fellows. UTMCK creates an environment where residents and fellows not only survive but thrive."

Bimaje Akpa, MD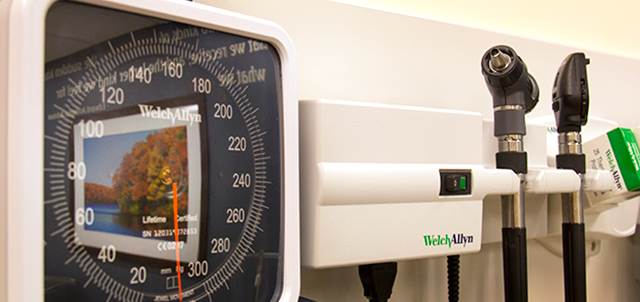 Headlines
The University of Tennessee Graduate School of Medicine
1924 Alcoa Highway
Knoxville, Tennessee 37920 | 865-305-9290
Copyright © 2022