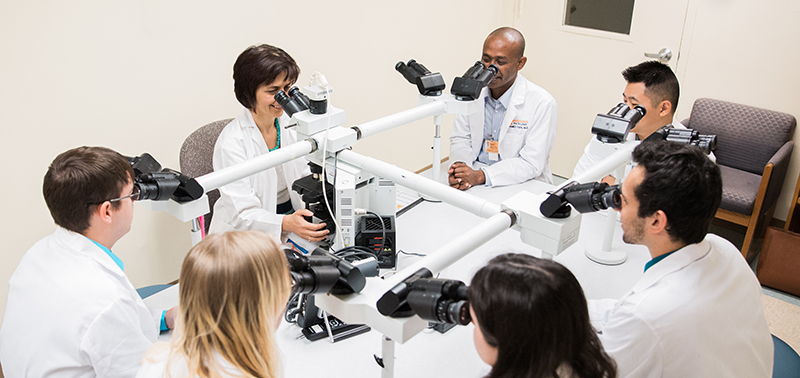 The Department of Pathology
Program Description
The Department of Pathology offers a four-year training program in Anatomic and Clinical Pathology.
Our Program Mission Statement
The program's mission is to provide strong basic training in Laboratory Medicine and Pathology and its subspecialties. The program's philosophic mission is to develop a medical knowledge/ skill base and professional attributes that allow our resident/ fellow to independently and competently practice pathology with a life long commitment to continued learning and excellence. The program is designed to develop anatomic and clinical pathologists of the highest caliber who are competent and prepared for private or academic practice.
The Department of Pathology subscribes to a three-fold mission of excellence in service, education and research. The department has provided, and will continue to provide, state-of-the-art anatomic and clinical laboratory services to our patients and the physicians who treat them at the medical center, its affiliated sites, and reference population. We are fully committed to the education of pathology residents and fellows.
It is expected after completion of the program that the resident will be able to pass the American Board of Pathology (ABP) examination, obtain a fellowship of his or her choice, and enter the practice of pathology with confidence in the knowledge base obtained at our program.
Department Chair
Lisa D. Duncan, MD, is the Chair and an Associate Professor of the Department of Pathology. Dr. Duncan received her medical degree from James H. Quillen College of Medicine, East Tennessee State University in Johnson City TN. She is an alumnus of the UTGSM Department of Pathology Residency Program and also the UTGSM Cytopathology Fellowship Program.
More
Subspecialties
The Pathology Department is dedicated to teaching, service, and research. In addition to pathologists in the major subspecialties, three laboratory PhD/MS scientists, and a large part-time visiting pathologist faculty are available for instruction. The pathology faculty includes the range of board-certified sub-specialists, providing excellent training in
Clinical Chemistry and Toxicology
Cytometry
Cytopathology, Image Analysis, and DNA Flow
Dermatopathology
Electron Microscopy
General and Oncologic Surgical Pathology
Hematology and Coagulation
Immunohematology/Transfusion medicine
Immunopathology/Immunology
Laboratory Management
Medical Genetics
Medical Informatics/Computer Applications
Microbiology, Mycology Virology, and Parasitology
Molecular Pathology
Muscle and Neuropathology
Ophthalmic Pathology
Oral Pathology
Pediatric Pathology
Renal and Transplant Pathology
---
Gifting
The John Evans Medical Technology Scholarship Endowment Fund/The John Evans Medical Technology Scholarship Gift Fund
The School of Medical Technology offers a four-year degree program with the last year being spent on the Medical Center campus. A one-year postgraduate certificate program is also available. Graduates are then eligible to take the national certification examination for medical technology given by the American Society of Clinical Pathologists, or other National certifying examinations, and the state licensing examination given by the Tennessee Department of Public Health. The selection of the recipient or recipients of the School of Medical Technology Scholarship Awards will be made by the scholarship selection committee. The Medical Technology Scholarships are open to all applications regardless of race, color, creed or gender with the following qualifications:
Each scholarship will be available to students who have been accepted for admission or are enrolled in the University of Tennessee Medical Technology curriculum;
Each student awarded a Scholarship shall have demonstrated successful academic performance and/or financial need (in the broadest sense);
A student who held the Medical Technology Scholarship in a previous year shall have preference in the selection procedures in subsequent years with all other things being equal.
Francis Jones Endowment/Francis Jones Gift Fund
Named after the first chairman of the Department of Pathology at the University of Tennessee Medical Center, earnings from this endowment will be used to enhance the School of Medical Technology at UT Medical Center. Written requests for expenditures will be reviewed by a selection committee. Annual earnings from the endowment support the gift fund and may be used for:
Registration, travel, lodging and other expenses associated with attending an educational program or conference;
Honorarium, travel, lodging, and other costs associated with a visiting lectureship;
Reagents, supplies, technical aid, and other costs associated with approved research;
Facility rental, materials, printing, postage, food, and other costs associated with a sponsored educational conference;
Books, journals, software and other educational materials or equipment;
Scholarships for deserving students enrolled in the School of Medical Technology.
Frances K. Patterson Gift Fund
The Frances K. Patterson, MD Gift Fund has been established in memory and in honor of Dr. Frances K. Patterson. Dr. Patterson began her residency training in Pathology at the University of Tennessee Medical Center in 1968 and for the next 36 years served the Department as a Practicing Surgical Pathologist, Cytopathologist and from 1988 to 1999 as Director of the Residency Training Program. This fund is intended to support resident education and research in the Department of Pathology at UT Medical Center and reflects her lifetime love of learning, her commitment to resident teaching and her devotion to the Pathology Resident Training Program.
Other expenditures which may be supported by the gift fund include:
Expenses associated with honors, awards and recognition for resident achievements.
Expenses associated with teaching awards for residents or faculty.
Purchase of books, journals and/or computer based educational material for the Resident Training Program.
Funding for travel, lodging, meals and other customary expenses related to attendance at educational meetings, conferences or resident forums.
Purchase of supplies, equipment, technical assistance, printing or other costs associated with resident research and publication.
The Pathology Education and Research (E/R) Endowment/The Pathology Education and Research (E/R) Gift Fund
The University of Tennessee Medical Center at Knoxville is comprised of University Memorial Hospital and the Graduate School of Medicine. Together, these entities embody the Medical Center's philosophy and mission through the spirit of exploration, the passion for teaching and the compassion to restore. The Partners are committed to the mission of the University Medical Center and have established this endowment as a way of giving something back to the University of Tennessee and the East Tennessee community. Annual earnings from the endowment support the gift fund and expenditures from this include:
Purchase of equipment;
Purchase of books, journals, and other educational materials;
Provide travel, lodging, honoraria, and other expenses in conjunction with a visiting lectureship;
Provide resources needed to support and sponsor (or co-sponsor) educational programs such as printing, facility, equipment rental, honorarium, travel, lodging, refreshments, and other customary expenses;
Provide research grants for reagents, supplies, technical aid, and other costs for deserving residents or others as selected by the departmental selection committee.
How to Make a Gift
Visit: Ways to Give
Send gifts to:
The University of Tennessee Graduate School of Medicine
Office of Development and Alumni Relations
1520 Cherokee Trail
Suite 110
Knoxville, TN 37920-2205
Contact:
Email: Development@utmck.edu
Phone: 865-305-6611
Fax: 865-305-6619
Top
---
Pathology Residenct and Fellow Classes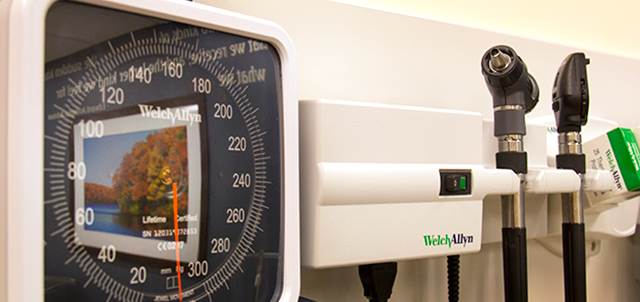 Headlines