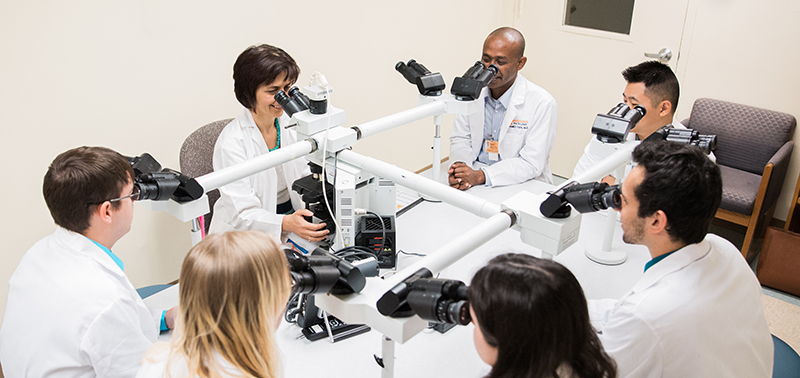 The Department of Pathology
The University of Tennessee Graduate School of Medicine (UTGSM) Department of Pathology is dedicated to teaching, service, and research in the field of pathology and laboratory medicine. The primary focus of the department is the training and professional development of residents, fellows, and third- and fourth-year medical students with interest in the field of pathology. The Department of Pathology is comprised of twelve core faculty members and a large roster of adjunct faculty with clinical appointments and additional volunteer faculty. The pathology faculty includes a range of board-certified subspecialists who providing excellent training in the areas of:
Autopsy/Forensic Pathology
Blood Bank/Transfusion Medicine
Clinical Chemistry
Cytopathology
Dermatopathology
Hematopathology
Laboratory Management and Informatics
Microbiology
Molecular Pathology
Ophthalmic Pathology
Oral Pathology
Pediatric Pathology
Surgical Pathology
Mission Statement
The Department of Pathology strives to achieve a three-fold mission of excellence in service, education, and clinically relevant research. The department will provide timely and state-of-the-art anatomic and clinical laboratory services to the patients at the University of Tennessee Medical Center and this region, including the physicians who treat them. The department is fully committed to the education of pathology trainees based upon the premise of lifelong learning. The department will participate in and coordinate research activities that support this institution's academic mission and contribute to the care of its patients.
Core Values
Patients are the Priority
Patient care is at the core of everything this team does and should be what guides decision making.
Serving Others
As this department serves others the rewards of success are a natural consequence.
Respecting Others
To respect others is to value their ability to contribute positively to the organization.
Exercising Responsibility with Resources
A finite amount of resources have been entrusted to this department and must be used wisely.
Cultivating Creativity
Recognize, develop, and recruit for creativity to ensure ongoing progress in an ever-changing world.
Training Facilities
The primary clinical site for most training is the nationally ranked University of Tennessee Medical Center in Knoxville, TN. Additional training is held at affiliated laboratories and institutions around the greater Knoxville area. These include:
Department Highlights
Pathology Residents present the Faculty Teaching Award to Laurentia Nodit, MD

Dr. Duncan Honored for Exemplary Service during the COVID-19 Pandemic
Learn More About Our Campus
For more information about the Knoxville area please visit the Knoxville Chamber of Commerce website
Department Chair
Stuart Van Meter, MD completed his undergraduate degree at Clemson University in South Carolina in 1982 and received his medical degree in 1986 from the Medical University of South Carolina College of Medicine. In June 1991, he completed his Pathology Residency at the University of Tennessee Medical Center at Knoxville and began working as a full-time pathologist at the UT Medical Center. During his career, Dr. Van Meter has authored more than 25 publications and was promoted to Associate Professor in 1998. Dr. Van Meter has thus been in a key part of the academic pathology practice at UTMC for more than 30 years, and previously served as Chair of the Department of Pathology from 2003 to 2011. MORE
---
Top
---
Pathology Resident and Fellow Classes