The Department of Obstetrics and Gynecology
Mark S. Gaylord, MD
Professor
Director, Neonatology
Division of Neonatology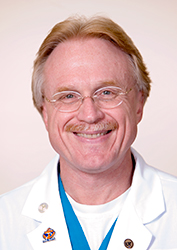 Education
Medical School
University of Tennessee Health Science Center, Memphis, TN 1978
Residency
Pediatrics, University of Colorado Health Sciences Center
Fellowship
Neonatology, University of Colorado Health Sciences Center
Certification
American Board of Pediatrics
Current Publications
Towers CV, Knapper A, Gaylord M, Burnette T, Neal R, Hennessy M.
Torticollis in infants with neonatal abstinence syndrome. Journal of Perinatology. 2020 Jan 6. [Epub ahead of print]
Pullano SA, Mahbub I, Bianco MG, Shamsir S, Islam SK, Gaylord MS, Lorch V, Fiorillo AS.
Medical devices for paediatric apnea monitoring and therapy: Past and new trends. IEEE Reviews in Biomedical Engineering. 2017 Sep 29. [Epub ahead of print]
Kim HN, Wyatt TH, Li X, Gaylord M.
Use of social media by fathers of premature infants. Journal of Perinatal & Neonatal Nursing. 2016 Oct/Dec;30(4):359-366.
Current Presentations
Gaylord MS. A low power wearable respiration monitoring sensor using pyroelectric transducer. Presented at United States National Committee for International Union for Radio Science; 2017 Jan 4-7; Boulder, CO.
Top
---
The University of Tennessee Graduate School of Medicine
1924 Alcoa Highway
Knoxville, Tennessee 37920 | 865-305-9290
Copyright © 2019