News and Events
Through Dr. I. Reid Collmann's Legacy Scholarship, Medical Students Participate in GSM Research Projects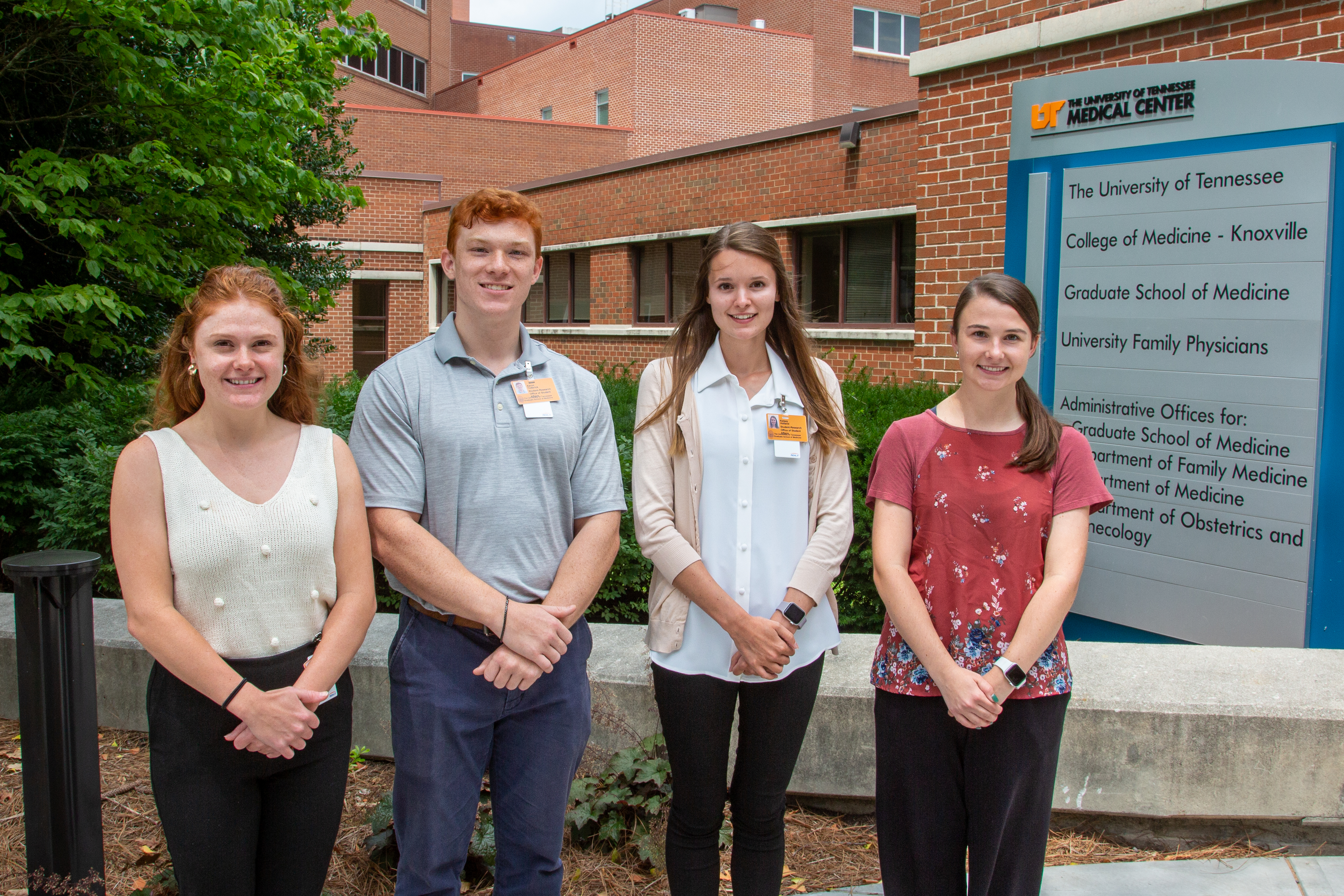 From left to right: Erica Whiteaker, Aaron Frederick, Kelsey Holland and Lindsay Bruce
Medical students participated in research projects at the University of Tennessee Graduate School of Medicine through the I. Reid Collmann, M.D. Medical Student Education Fund which gives students an opportunity similar to that of former Dean Collmann's own student research experience. Dr. Collmann believed that hands-on exposure to research and its impact on patient care help to build a solid foundation for careers in medicine.

This summer, four medical students between their first and second years of study at the UT Health Science Center College of Medicine were supported by the program.

Aaron Frederick participated in research under the supervision of Dustin Osborne, PhD, Derek Cressy, PhD, and Murthy Akula, PhD in the Molecular Imaging and Translational Research Program. One of the aims of the study focused on translating a radiochemical method of fluorination into a general method that could be used with nonradioactive isotopes. This new methodology utilized quaternary ammonium salts as a precursor molecule in the creation of a fluorinated product and has potential applications in several industries, including pharmaceutical development. Purity and quantitative yield of the fluorinated product were confirmed by 19F NMR and showed that this new method of cold fluorination appeared to be successful, affording moderate to good yields. Dr. Osborne, Dr. Cressy, and Dr. Akula plan to submit these results for publication in the coming months.

Under the direction of Nikki Zite, MD, MPH and Alicia Mastronardi, MPH in the Department of Obstetrics and Gynecology, Kelsey Holland participated in a study focused on the accessibility of postpartum long-acting reversible contraception (LARC; IUDs and contraceptive implants) for privately insured women versus women that are not eligible for immediate postpartum LARC placement, like TennCare recipients. Contributing to the study, Ms. Holland found that in 2018, only 71% of privately insured women who expressed a desire for postpartum LARC actually received it at a postpartum visit, and on average it took greater than two postpartum visits and 53 days until LARC placement. Overall, privately insured women desiring postpartum LARC face greater barriers to obtainment, including additional visits and delay, since immediate placement is not offered to them, and this puts them at increased risk of having a subsequent short-interval birth with a higher likelihood for a variety of complications.
Regarding her experience, Ms. Holland said, "The Collmann Program was an amazing experience for me. I had opportunities to design projects, meet physicians as well as residents and other medical students, review physicians' notes, and even attend one of the training sessions for new residents."
Lindsay Bruce participated in a research study under the direction of Denise Semashko, MD and Stanton Elseroad, MD centered on the Provider in Triage (PIT) model of triaging patients which is used in some emergency departments. For the study, a provider (either a physician or an APC) was added to triage to see patients, obtain a history, perform a physical exam, and order the labs and imaging studies pertinent for that patient. Ms. Bruce collected the data stored over the past several months comparing regular nurse-directed triage results with Provider in Triage model results. The results were significant for improved Door-to-Provider wait times, decreased Left Without Being Seen (LWBS) rates, and decreased overall ED Length of Stay for patients undergoing PIT style of triage.

Regarding her experience, Ms. Bruce stated, "I really enjoyed the Collmann research program as it allowed me to perform research in a field I am genuinely interested in, it gave me a greater sense of what emergency medicine is truly all about and allowed me to meet amazing people who mentored and guided me through everything I learned."
Under the guidance on Stefanos Boukovalas, MD and Jillian Lloyd, MD in the Department of Surgery, Erica Whiteaker participated in a study researching the trend of contralateral prophylactic mastectomies in the patient population at UT and the factors and patient characteristics that may be contributing to this trend. This is an important topic as more patients that are not necessarily at elevated risk for breast cancer in the contralateral breast are choosing to undergo contralateral prophylactic mastectomy, despite higher risk for complication compared to other treatment options.
Regarding her experience, Ms. Whiteaker said, "Overall, my experience with the I. Reid Collmann, M.D. Medical Student Educational Scholarship was great. As someone who is new to the research world, I had fantastic mentors who guided me and taught me the ins and outs of clinical research. I would highly recommend this program to any medical student looking to be more involved with research."
Posted October 18, 2022