News and Events
Dr. Spengler's Legacy for Vascular Research Honored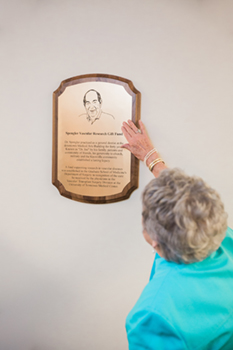 Mitchell Goldman, MD, Assistant Dean for Research and retired Vascular Surgeon and Chair of Surgery, recently unveiled a plaque to recognize the contributions of Frank J. Spengler, DDS, to vascular research through a gift fund created in his name. In 2004, Dr. Spengler established the Dr. Frank J. Spengler Vascular Research Fund to show his gratitude to the UT Graduate School of Medicine for saving his life - twice. Dr. Goldman said Dr. Spengler was first treated at The University of Tennessee Medical Center for a ruptured aneurysm. Years later, he received a kidney transplant by himself and vascular surgeon Oscar Grandas, MD.
The plaque unveiling event included special guest Mary Spengler, Dr. Spengler's wife, and a presentation by Deidra Mountain, PhD, Co-Director of the Vascular Research Laboratory with Dr. Grandas, to update Mrs. Spengler on how the gift fund is supporting vascular surgery research.
Dr. Mountain discussed three pieces of equipment purchased through the gift fund that have had a huge impact on research capabilities: Applied Biosystems StepOne Real-Time PCR System, Synthecon RCCS-4 rotary bioreactor, and Bioptechs FCS3 parallel plate live cell shear flow chamber.
Vascular disease affects 1 in 20 Americans over age 50 and has a higher incidence in the southeastern United States due to smoking and obesity. The Vascular Research Laboratory is a basic and translational research facility dedicated to the study of peripheral arterial disease and the development of therapeutic interventions to prevent development of vascular pathologies. Current primary research is targeted at molecular and cellular mechanisms of intimal hyperplasia development and restenosis; and development of translational therapeutics for genetic therapy to prevent vascular pathologies. Since 2007, the laboratory has contributed to 14 peer-reviewed manuscripts, 22 published abstracts, and 50 presentations.
Posted May 27, 2016
Top
---
The University of Tennessee Graduate School of Medicine
1924 Alcoa Highway
Knoxville, Tennessee 37920 | 865-305-9290
Copyright © 2019