News and Events
Family Medicine Residents Simulate Taking Call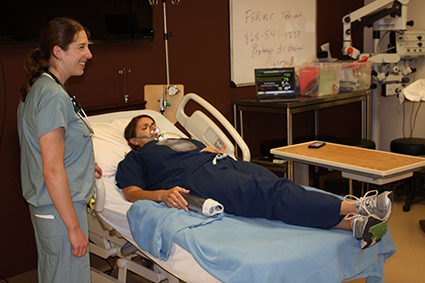 Rising second-year Family Medicine residents participated in a simulated training known as "Night of the Living Call" to help prepare them for taking "call." The training exercises were initiated in 2014 by resident John Pitt, MD, so residents could practice for difficult situations.
Dr. Pitt said, "If we look at other professions such as aviation, the military and law enforcement, we see that they practice emergency scenarios before the actual event occurs, enabling much quicker response times, fluidity and real-time problem solving."
For Family Medicine residents, "call" includes admitting any direct or Emergency Department admissions, stabilizing those patients, and seeing that their immediate medical needs are addressed; examining OB patients who arrive in triage and deciding whether or not they are in labor or in danger of pre-term labor or miscarriage; caring for any issue that arises among patients already admitted to a Family Medicine in-service team; fielding questions, prescription issues, and acute illnesses from University Family Physicians clinic, which has more than 30 providers and patients ranging newborns to elderly. Residents also handle any respiratory distress or code scenarios and follow up on diagnostic tests for the in-service teams at night.
Dr. Pitt said taking call is an incredible time to learn, but it can also be intimidating. "Residents learn quickly how to triage in order of importance the calls that come in to the pager. Speaking from personal experience, within 30 minutes you could get a call for chest pain admission from the ED, have a laboring patient in Labor and Delivery, receive a call from a clinic patient's mother who is concerned about fevers in her child, and receive a rapid response for a severe COPD or congestive heart failure exacerbation patient."
To better prepare residents for what they will encounter on call, Dr. Pitt has worked with a team of residents, including Katherine Hall, MD, Kabir Harricharan Singh, MD, Rick Rabon, MD, and Emily Greer, MD, and Emergency Medicine Fellow Andy Herda, MD, under the guidance of Family Medicine faculty Julie Jeter, MD, and Leonard Lamsen, MD. The simulation training includes four scenarios — two cardiac emergencies and two respiratory emergencies.
"Residents were given a patient list, as we would have in our daily check out, and then called to the patient's bedside," Dr. Pitt said. "Residents were expected to evaluate the patient including vital signs and EKG, and treat within an allotted amount of time. If they did not do these things or missed important steps, the patient was simulated into an unstable scenario. If they did make the appropriate choices, the patient stabilized.
"The other two scenarios were respiratory scenarios having to do with acute CHF exacerbation and pulmonary embolism. We also had a mini quiz on how to triage the calls coming through the pager, and a station on hand-offs from day shift to call."
Based on feedback from the first class of residents to participate in the training after six months of taking call, residents agreed the training was valuable.
Posted September 29, 2015