The Department of Medicine
William B. Smith, MD
Professor
Division of Cardiology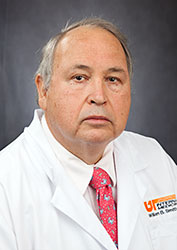 Education
Medical School
Universidad Autonoma de Guadalajara
Residency
Internal Medicine, University of Tennessee Medical Center
Fellowship
Cardiology, Tulane University Medical Center and Affiliated Hospitals, New Orleans, LA
Nephrology, Vanderbilt University, Nashville, TN
Certifications
American Board of Internal Medicine
American Board of Internal Medicine - Cardiovascular Disease
American Board of Internal Medicine - Nephrology
Current Publications
Ogasawara K, Smith WB, Xu C, Yin J, Palmisano M, Krishna G.
Pharmacokinetics and tolerability of fedratinib, an oral, selective Janus kinase 2 inhibitor, in subjects with renal or hepatic impairment. Cancer Chemotherapy and Pharmacology. 2020 May 24. [Epub ahead of print]
Skoura N, Wang-Jairaj J, Della Pasqua O, Chandrasekaran V, Billiard J, Yeakey A, Smith W, Steel H, Tan LK.
Effect of raxibacumab on immunogenicity of Anthrax Vaccine Adsorbed: A phase 4, open-label, parallel-group, randomised non-inferiority study. The Lancet. Infectious Diseases. 2020 Apr 22. [Epub ahead of print]
Russell KS, Yates DP, Kramer CM, Feller A, Mahling P, Colin L, Clough T, Wang T, LaPerna L, Patel A, Lawall H, Shennak MM, Fulmer J, Nikol S, Smith WB, Muller OJ, Ratchford EV, Basson CT.
A randomized, placebo-controlled trial of canakinumab in patients with peripheral artery disease. Vascular Medicine (London, England). 2019 Oct;24(5):414-421. Epub 2019 Jul 5.
Smith WB, Hall J, Berg JK, Kazimir M, Yamamoto A, Walker S, Lee CA, Shen Z, Wilson DM, Zhou D, Gillen M, Marbury TC.
Effect of renal impairment on the pharmacokinetics and pharmacodynamics of verinurad, a selective uric acid reabsorption inhibitor. Clinical Drug Investigation. 2018 Aug;38(8):703-713.
Sulkowski MS, Feld JJ, Lawitz E, Felizarta F, Corregidor AM, Khalid O, Ghalib R, Smith WB, Van Eygen V, Luo D, Vijgen L, Gamil M, Kakuda TN, Ouwerkerk-Mahadevan S, Van Remoortere P, Beumont M.
Efficacy and safety of 6 or 8 weeks of simeprevir, daclatasvir, sofosbuvir for HCV genotype 1 infection. Journal of Viral Hepatitis. 2018 Jun;25(6):631-639. Epub 2018 Feb 6.
Smith WB, Gibson S, Newman GE, Hendon KS, Askelson M, Zhao J, Hantash J, Flanagan B, Larkin JW, Usvyat LA, Thadhani RI, Maddux FW.
The dynamics of the metabolism of acetate and bicarbonate associated with use of hemodialysates in the ABChD trial: A phase IV, prospective, single center, single blind, randomized, cross-over, two week investigation. BMC Nephrology. 2017 Aug 29;18(1):273.
Steinman GL , Smith WB , Westrick ML , Greenberg HE.
Hot button protocol and operational issues between sponsors and sites in clinical pharmacology studies: A moderated forum session. Therapeutic Innovation and Regulatory Science. 2017 May;51(3):298-302.
Top