The Department of Medicine
John A. Stancher, MD
Assistant Professor
Division of Gastroenterology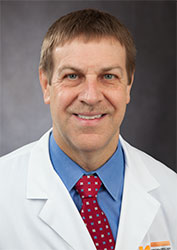 Clinical Focus
ERCP-diagnostic and Therapeutic
Education
Medical School
Wayne State University, Michigan, 1982
Residency
Internal Medicine, University of Wisconsin, 1985 Gastroenterology, University of Wisconsin, 1987
Fellowship

Certifications
American Board of Internal Medicine
American Board of Internal Medicine - Gastroenterology
Current Publications
Kleppe KL, Gray KD, Stancher JA, Duncan LD, Vaughan JW, Orucevic A.
A rare case of plasmablastic lymphoma mimicking adenocarcinoma of the sigmoid colon. The American Surgeon. 2016 Aug;82(8):178-180.
Current Presentations
Rumberger Rivera LK, Prince J, Rollhauser C, Stancher J. The treatment of hepatitis C in patients undergoing peritoneal dialysis: Two case studies. Presented at American College of Gastroenterology Annual Scientific Meeting; 2016 Oct 14-19; Las Vegas, NV.
Top
---
The University of Tennessee Graduate School of Medicine
1924 Alcoa Highway
Knoxville, Tennessee 37920 | 865-305-9290
Copyright © 2019