The Department of Medicine
Elise E. Schriver, MD
Clinical Associate Professor
Division of Pulmonary Medicine
Section of Critical Care Medicine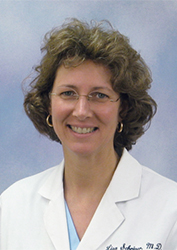 Clinical Focus
Pulmonary and Critical Care Medicine
Research Focus
Asthma
Education
Medical School
University of Tennessee, Memphis, 1983
Residency
Duke University Medical Center, 1986
Fellowship
Pulmonary Disease, Vanderbilt University Medical Center, 1989
Certifications
Pulmonary Disease
Critical Care Medicine
Internal Medicine
Professional Affiliations
American College of Chest Physicians
American Thoracic Society
Alpha Omega Alpha
American Board of Internal Medicine
American Board of Internal Medicine - Pulmonary Medicine
American Board of Internal Medicine - Critical Care
Fellow, American College of Chest Physicians
Current Publications
Biney I, Dudney T, Goldman M, Carder L, Schriver E.
Successful use of hyperbaric oxygen as adjunctive therapy for a nonhealing venous ulcer in a patient with systemic sclerosis and pulmonary arterial hypertension: A case report and review of the literature. Case Reports in Pulmonology. 2020 Feb 24;2020:4750375. eCollection 2020. Available in PubMed: Mar 2020.
Current Presentations
Dewald J, Attia S, Schriver EE, Dudney TM, Kravitz JN. Progression of pulmonary fibrosis in a patient with telomere disease previously treated with Danazol. Presented at CHEST Annual Meeting; 2017 Oct 28 - Nov 1; Toronto, Canada.
Angotti JA, Singh A, Turner JF, Callison C, Schriver E, Dudney T. Reviving the dying art: A case of pulmonary arterial hypertension diagnosed on physical exam. Presented at American Thoracic Society International Conference; 2017 May 19-24; Washington D.C., DC.
Morris JC, Schriver E, Baljepally R. The rare among the common: A case of pulmonary arterial hypertension. Presented at American College of Physicians Internal Medicine Meeting; 2017 Mar 30 - Apr 1; San Diego, CA.
Top