The Department of Medicine
Bret A. Rogers, MD
Assistant Professor
Division of Cardiology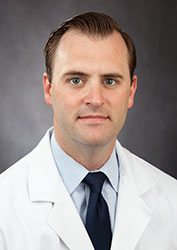 Clinical Focus
Valvular Heart Disease; Hypertrophic Cardiomyopathy; Transesophageal Echocardiography
Education
Medical School
Jefferson Medical College of Thomas Jefferson University, School of Medicine, Philadelphia, PA, 2001
Residency
Duke University Medical Center, Durham, NC, 2004
Fellowship
The Cleveland Clinic Foundation, Cleveland Ohio, Cardiovascular Medicine Fellowship, 2007
Certifications
Internal Medicine
Cardiovascular Disease
Echocardiography
Nuclear Cardiology
Professional Affiliations
American College of Cardiology
American Heart Association
American Society of Echocardiography
American Society of Nuclear Cardiology
Current Publications
Holbert J, Shepple B, Rogers B, Hirsh J.
The proof is in the appendage: A case report of a fenestrated membrane overlying the left atrial appendage. Echocardiography (Mount Kisco, N.Y.). 2020 Oct 18. [Epub ahead of print]
Holbert J, Rogers B, Bresee S.
Dueling myxomas: A rare finding. CASE (Philadelphia, Pa.). 2019 Jun 24;3(4):167-170. eCollection 2019 Aug.
Tonks R, Perkel D, Wehber A, Rogers B.
Traumatic ventricular septal defect resulting from a motor vehicle collision. Journal of Cardiovascular Echography. 2018 Jul-Sep;28(3):191-193.
Current Presentations
Boulos M, Turner J, Heidel E, Rogers B, Findeiss L, Gaines T. Acute submassive hemodynamically stable pulmonary embolism triage and outcomes. Presented at 48th Annual Critical Care Congress of the Society of Critical Care Medicine; 2019 Feb 17-20; San Diego, CA.
Wehber AA, Rogers BA, Hirsh J. Regional left ventricular non-compaction: A comparison of two widely varying presentations. Presented at Tennessee Chapter of the American College of Cardiology; 2018 Nov 2-3; Nashville, TN.
Wehber A, Tonks R, Huntsinger DR, Rogers B. Limited echocardiography as an economic alternative to complete studies for selected inpatients. Presented at 22nd Annual Scientific Meeting of the Heart Failure Society of America; 2018 Sep 14-17; Nashville, TN.
Holbert JC, Rogers BA, Bresee SJ. Dueling myxomas: A rare finding. Presented at The 29th Annual American Society of Echocardiography Scientific Sessions; 2018 Jun 22-26; Nashville, TN.
Holbert JC, Rogers BA, Rasnake MS. Getting to the HEART of the matter: A retrospective review to reduce unnecessary chest pain admissions. Presented at American College of Cardiology's 67th Annual Scientific Session; 2018 Mar 9-13; Orlando, FL.
Morris JC, Rogers BA, Emmett K. Ageism and pathway driven physician bias: A case of misleading "Heart Failure." Presented at Annual Scientific Meeting of the American Geriatrics Society; 2017 May 18-20; San Antonio, TX.
Top