The Department of Medicine
David A. Perkel, MD
Clinical Assistant Professor
Division of Cardiology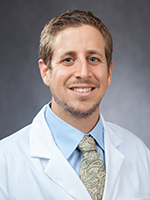 Education
Medical School
University of Southern California: Keck School of Medicine, Los Angeles, CA, 2009
Residency
Cedars-Sinai Medical Center/West Los Angeles Veteran's Administration; Los Angeles, CA,
Residency in Internal Medicine, 2012
Fellowship
University of Tennessee Medical Center; Knoxville, TN
Fellowship in Cardiovascular Disease, 2017
Certifications
ABIM Certified in Internal Medicine, 2012
Current Publications
Tonks R, Perkel D, Wehber A, Rogers B.
Traumatic ventricular septal defect resulting from a motor vehicle collision. Journal of Cardiovascular Echography. 2018 Jul-Sep;28(3):191-193.
Gorman EW, Perkel D, Dennis D, Yates J, Heidel RE, Wortham D.
Validation of the HAS-BLED tool in atrial fibrillation patients receiving rivaroxaban. Journal of Atrial Fibrillation. 2016 Aug-Sep;9(2):16-18.
Lakkakula VM, Perkel DA, Crook JJ, Overly TL.
Septic thrombophlebitis causing pulmonary valve endocarditis and septic pulmonary emboli: A rare and troublesome trifecta. Journal of Cardiology & Clinical Research. 2016 Sep;4(6):1076.
Top
---