The Department of Medicine
Tjuan L. Overly, MD, FACC
Clinical Assistant Professor
Fellowship Director
Division of Cardiology
Section of Interventional Cardiology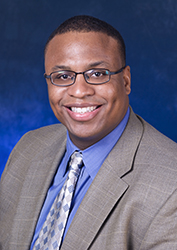 Clinical Focus
Coronary Interventions, Peripheral/Carotid Interventions, ASD/PFO Closure, Alcohol Septal Ablations for HOCM, Aortic/Mitral Valvuloplasty, IVC Filters
Education
Medical School
University of Kentucky College of Medicine, Lexington, KY, 1999
Residency
Vanderbilt University Medical Center, Nashville, TN, 2003
Fellowship
Cardiovascular Medicine Fellowship, The Cleveland Clinic Foundation, Cleveland Ohio, 2006
Interventional Cardiology Fellowship, The Cleveland Clinic Foundation, Cleveland Ohio, 2008
Certifications
American Board of Internal Medicine
American Board of Internal Medicine - Cardiovascular Disease
American Board of Internal Medicine - Interventional Cardiology
Current Publications
Basir MB, Kapur NK, Patel K, Salam MA, Schreiber T, Kaki A, Hanson I, Almany S, Timmis S, Dixon S, Kolski B, Todd J, Senter S, Marso S, Lasorda D, Wilkins C, Lalonde T, Attallah A, Larkin T, Dupont A, Marshall J, Patel N, Overly T, Green M, Tehrani B, Truesdell AG, Sharma R, Akhtar Y, McRae T 3rd, O'Neill B, Finley J, Rahman A, Foster M, Askari R, Goldsweig A, Martin S, Bharadwaj A, Khuddus M, Caputo C, Korpas D, Cawich I, McAllister D, Blank N, Alraies MC, Fisher R, Khandelwal A, Alaswad K, Lemor A, Johnson T, Hacala M, O'Neill WW; National Cardiogenic Shock Initiative Investigators..
Improved outcomes associated with the use of shock protocols: Updates from the National Cardiogenic Shock Initiative. Catheterization and Cardiovascular Interventions. 2019 Jun 1;93(7):1173-1183. Epub 2019 Apr 25.
Lakkakula VM, Perkel DA, Crook JJ, Overly TL.
Septic thrombophlebitis causing pulmonary valve endocarditis and septic pulmonary emboli: A rare and troublesome trifecta. Journal of Cardiology & Clinical Research. 2016 Sep;4(6):1076.
Current Presentations
Katukuri N, Osoro M, Overly T. Impella in low flow low gradient aortic stenosis. Presented at Society for Cardiovascular Angiography and Interventions; 2016 Dec 10-14; Las Vegas, NV.
Top