The Department of Medicine
Ross M. Nesbit, MD
Clinical Assistant Professor
Division of Nephrology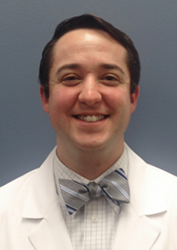 Clinical Focus
Nephrology
Education
Medical School
University of South Carolina School of Medicine, Columbia, SC
Internal Medicine Residency
Carolinas Medical Center, Charlotte, NC
Nephrology Fellowship
Vanderbilt University Medical Center
Certifications
American Board of Internal Medicine
Current Publications
Jones MJ, Eudaley ST, Moye RA, Hodge TA, Nesbit RM, Franks AS.
Safety outcomes of apixaban in patients with nonvalvular atrial fibrillation and severe renal impairment. Journal of Thrombosis and Thrombolysis. 2020 Jan 4. [Epub ahead of print]
Velez JCQ, Obadan NO, Kaushal A, Alzubaidi M, Bhasin B, Sachdev SH, Karakala N, Arthur JM, Nesbit RM, Phadke GM.
Vancomycin-associated acute kidney injury with a steep rise in serum creatinine. Nephron. 2018 Apr 27;139(2):1-12.
Sarratt SC, Nesbit R, Moye R.
Safety outcomes of Apixaban compared with Warfarin in patients with end-stage renal disease. The Annals of Pharmacotherapy. 2017 Jun;51(6):445-450. Epub 2017 Feb 1.
Top
---
The University of Tennessee Graduate School of Medicine
1924 Alcoa Highway
Knoxville, Tennessee 37920 | 865-305-9290
Copyright © 2019