The Department of Family Medicine
F. Matthew Mihelic, MD
Associate Professor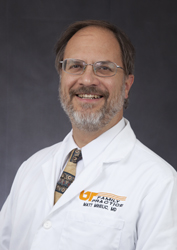 Clinical Focus
Medical decision-making, complex systems, biophysics
Research Focus
Dr. Mihelic's research interests involve the biological complexity that originates in the quantum mechanics of the DNA molecule, especially with respect to complex decision-making in multi- agent complex adaptive systems. Dr. Mihelic holds a patent on a multi-agent complexity-related decision-making algorithm (US 8,170,965) that has potential applications in big data analysis, distributed computing, artificial intelligence, enterprise architecture, and biologically-related systems. He has developed a theoretical model of how the DNA molecule functions as a quantum logic processor, and through that model he has predicted and experimentally demonstrated entanglement-based non-local communication between separated cell cultures at biological temperatures. Dr. Mihelic currently is planning research to explore the role of DNA quantum entanglement and decoherence in cancer.
Education
Medical School
Loyola University of Chicago
Residency
Montgomery Family Practice Residency Program, University of Alabama at Birmingham authorized, Montgomery, Alabama
Certification
Family Medicine
Current Publications
Mihelic M.
Politicization of medical decision making. American Journal of Disaster Medicine. 2019 Summer;14(3):155.
Mihelic M, Blake GH.
Why is Family Medicine different? Journal of Enterprise Architecture. 2017 Jun 27;e352027.
Current Presentations
Mihelic FM. Adaptation of complex systems through entropy reduction. Presented at 4th International Conference for Systems and Complexity Sciences for Health (Invited Lecture); 2019 Apr 4-5; Knoxville, TN.
Mihelic FM. Correlated depolarizations between separated neuronal stem cell cultures and the quantum DNA model. Presented at Neuroscience Network of East Tennessee, Spring Brown-Bag Seminar Series (Invited Lecture); 2019 Mar 28; Knoxville, TN.
Mihelic FM. Experimental evidence supportive of the quantum DNA model. Presented at SPIE Defense and Commercial Sensing: Quantum Information Science, Sensing, and Computation XI (Invited Lecture); 2019 Apr 14-18; Baltimore, MD.
Mihelic FM. How do we manage the complexity of medical care delivery today? Presented at Annual Meeting of the North American Primary Care Research Group (NAPCRG) (Invited Lecture); 2018 Nov 13; Chicago, IL.
Mihelic FM. Modeling the DNA molecule as a quantum mechanical Turing machine. Presented at 85th Annual Meeting of the American Physical Society Southeastern Section (Invited Lecture); 2018 Nov 9; Knoxville, TN.
Top